If you're like many of the homeowners here in the Northeast, you'll agree that almost nothing is softer and warmer on your feet (especially in the winter) than soft, plush, wall-to-wall carpeting.
But what is that soft, squishy feeling beneath your feet worth, when compared to the overall indoor environment of your home?  Our list below may change your mind about your homes carpeting; Our flooring Pro's go over the 5 biggest reasons to get rid of that old carpet today.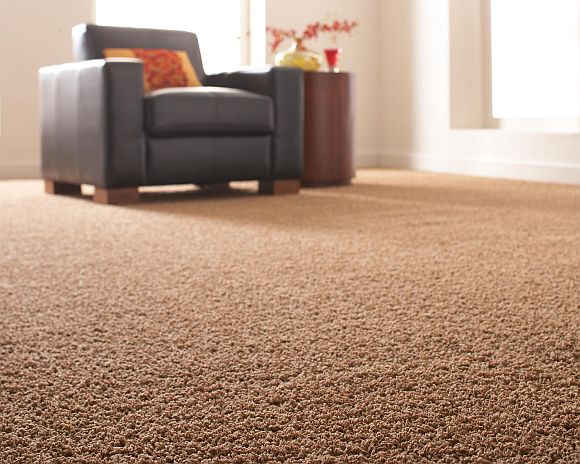 ---
#1 – Allergies –
---
 Carpet is a known Magnet for allergens. They are reported to contain 100 times more allergens than hard-surfaced floor coverings.  Carpet manufacturers report that carpet fibers trap allergens; while this may be true, as dust mites, mold spores and dander do, in fact stick to carpet fibers, as soon as they're disturbed, (ie. walking on them, etc.) they become airborne and can remain airborne for hours, long enough to be inhaled and cause allergy symptoms.   According to the Asthma and Allergy Foundation of America, more than 20 million Americans are allergic to dust mites, and they're most commonly found deep in carpeting, causing year-round allergy symptoms for many people.  Having flooring with a non-porous surface, such as vinyl or tile will eliminate the accumulation of a huge amount allergens in your home.  A softer alternative to carpeting would be floating clickable vinyl flooring (read about COREtec Plus HERE).  The water-proof vinyl top layer is incredibly easy to keep clean, while the added softness of its attached cork underlayment makes it more comfortable to walk on than a glue down vinyl or tile floor.
——-Read more about water-resistant flooring HERE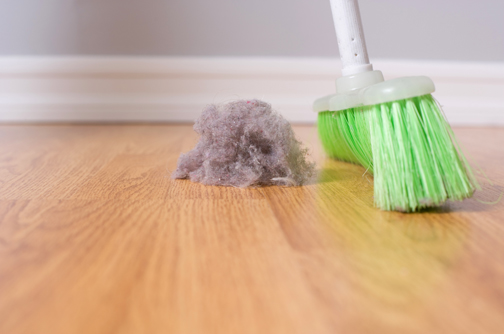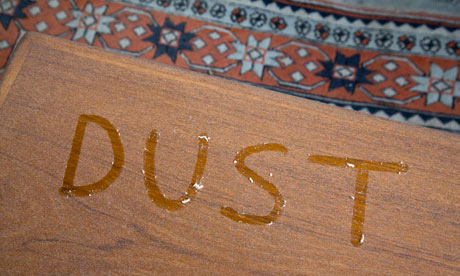 ---
#2 – How CLEAN is your carpet, REALLY?
---
Dust Mites, Mold Spores, and Pet Dander, oh my!
Even though Halloween is almost upon us, what's truly scary is imagining what microscopic creepy crawly's are lurking in your wall-to-wall carpet; but believe that once you find out, you'll wish you didn't know!
It's always been the normal assumption that regular vacuuming is all that's needed to maintain the overall cleanliness of carpeting.  But over the years, more and more research has been done to successfully connect indoor allergens to plush carpeting, discovering what's actually causing the sneezing, coughing, itchy, watery eyes, and even trigger asthma attacks.
Dust mites, which are only visible through a microscope, burrow deep down into carpet fibers, in fact, 95 percent of them living in your carpeting won't be removed by vacuuming alone.  While there ARE vacuums with special filters called "high-efficiency particulate air" (HEPA), most other vacuums just re-release many of the allergens they pick up, giving you false hope for a clean carpet… and to top-off the scary fact that dust mites are more than likely living somewhere in your carpeting, here's a horrifying fact: People who are allergic to dust mites, are allergic to their droppings, not the dust mite themselves.  Yikes!  If anything could convince a homeowner to get rid of a carpet, I bet that would.
Next, there are "Mold Spores." Mold spores are naturally in the air, all around us, and your wall to wall carpeting is a perfect place for the spores to get settled in and stay for a while.  All mold spores need to thrive are a humid environment with oxygen and a food source; a perfect food source for mold spores to grow is dust.  When these spores attach to your carpet fibers, they'll feed on normal, everyday dust, and before you know it, you may have mold growth.  Carpeting with high pile in moist or damp environments like a basement or another below-grade area of your home will have the highest risk for growing mold.
——-Learn more about what to do if you find Mold in your home HERE.
Pet Dander is made up of tiny particles of old fallen skin cells that have been shed from your pets. It can circulate in the air and cling to furniture, window coverings, and of course, cling to your carpeting where the dust mites will use it as a food source.  Usually, dander attaches itself to the dust in the air, so generally speaking, it can find its way anywhere, but it is notorious to be found in carpeting.  Without vacuuming regularly, and picking up the dander and dust on your carpets surface, every time you or your pet walk across it, the dander gets kicked-up back into the air or pushed further down, deeper into the carpeting, making it even harder to get to.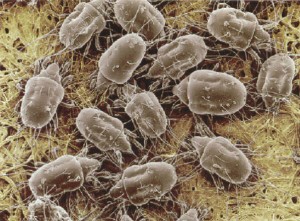 Dust Mites in Carpeting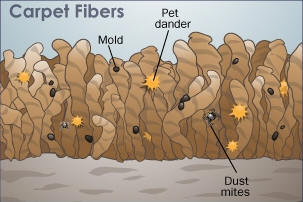 Carpet Fibers containing Mold, Dander and Dust Mites
---
#3 – Hardwood Flooring Underneath – 
---
Another great reason to get rid of that old wall to wall carpet is if you discover that there's hardwood flooring underneath.  Solid hardwood flooring is timeless and has been used in homes for centuries; you may be pleasantly surprised to find that there's hardwood flooring under the carpet in your own home, just waiting to be brought back to life with refinishing!  Your home can easily be transformed from having dated, old carpeting to stunning hardwood floors; many homeowners are shocked at how well some of the, seemingly unsalvageable hardwood floors sand out and finish like new.
——-Read more about hardwood floor refinishing HERE
---
#4 – Re-Sale Value – 
---
Any realtor, decorator or home improvement specialist will tell you that carpeting does not add re-sale value to your home or help it to actually sell, if and when you decide to do so.  Although, like many homeowners, you may like the look and feel of plush new carpeting in your home, or maybe didn't want to spend much on your flooring, but thinking long-term, your flooring choice should be thought of as something you're investing into your home.  Carpeting will need replacing in just a few years, while something like solid hardwood flooring, has the potential to last for the lifetime of the home and adds a great amount of value to it as well.  There is no return on your investment (ROI) when you choose to install carpeting in your home.  Solid hardwood flooring, however more expensive than carpeting, will increase your homes value and give you a much better ROI when you go to sell.
---
#5 – Pet Owners –
---
More than half of all American households have pets and with that many furry family members around, pet dander is something that should be considered when deciding on a floor covering.  According the the Humane Society of The United States, there are more than 77 million dogs and 93 million cats in homes across the country.  No one knows more than a pet-owner that the daily general household cleaning and maintenance rituals are a bit more involved than they would be if they didn't have any pets.  Vacuuming a wall-to-wall carpet, even if done daily, still won't remove a lot of the dander trapped deep in the carpets' fibers.  Having a solid floor covering instead of carpeting will prove to be much easier to clean and keep clean.
——- Learn about hardwood flooring for Pet-owners HERE.