Here are some hardwood flooring facts that can keep you ahead of the game when deciding on which material to choose for your pet friendly home…
With 63% of all U.S. households having pets, this is a topic that we come across pretty often.  Though we love our furry family members, they can be a bit tough on our floors.
One of the biggest issues with our pets is their nails.  If they're not kept trimmed, they could easily scratch a hardwood floor.  In addition to scratches, your hardwood floor has to try to endure food and water bowl spills, and lets not forget the dreaded housebreaking accidents!
Even though hardwood flooring and pets might not be a match made in flooring heaven, certain species of wood just might be better than others when it comes to durability.
Moisture is a hardwood floors worst enemy.
Any spills or accidents could wreak havoc if not cleaned up right away.  (And that goes without saying for every species of wood) Any spills or accidents could wreak havoc if not cleaned up right away.  (And that goes without saying for every species of wood)  Spills in the area where your pets food and water bowl are kept, eventually take their toll on that specific area of the wood floor.  For example; if your kitchen has hardwood flooring, and your pets food and water bowls are kept in one area, because of daily wear from cleaning and wiping up the mess after they eat, that specific area may need to be refinished sooner than the rest of the floor.  Using a towel or mat underneath their bowl will help, but remember not to leave a wet mat sitting on the hardwood floor, it would be just like leaving a wet sponge on the floor, defeating the whole purpose of the mat.  Area rugs hold the same risk of trapped moisture.  Pet accidents that you may miss, because they occur on a busy area rug, could mean disaster for that area of hardwood underneath.  If your pet DOES have an accident on an area rug, do your best to get to it as soon as possible, either removing the area rug completely, or rolling it up to allow the hardwood underneath to thoroughly dry-out.
As far as choosing a more durable material to be ahead of the game, looking at the species' Janka rating (density measurement) is a good place to start.  A couple examples of durable and dense hardwood species are Brazilian Walnut, and Hard Maple.
Brazilian Walnut hardwood flooring is universally hard and dense.  Beyond that, it's really a matter of personal preference.  Brazilian Walnut, with a Janka rating of 3680, is so dense that it's used for exterior decks.  It's not the easiest material to install because of its density, but the benefits of its durability outweigh the difficulty level.  This example may be on the extreme side as far as density goes, but there are many other species in between. (Hardwood Species page)
If you're looking for flooring that's domestic, and don't want to import, Hard Maple may be the way to go.
Hard Maple has long been used as a surface for basketball courts, so ideally, it should stand up well to pet traffic.  It can hit a Janka rating of 1450 or higher; but whatever you do, don't get this species confused with any other Maple species, it's a specific type alternately called "Sugar Maple" or "Rock Maple."  According to MFMA (Maple Flooring Manufacturers Association) Hard Maple is "produced from the trees grown North of the 38th parallel (roughly above the longitudinal line drawn between San Francisco and Richmond, V.A.) where shorter growing seasons produce Maple with closer, more uniform grain;"   Which basically means that while natural Maple wood is one of the more soft woods, Hard Maple is this species' exception.
The best form of defense for your new hardwood floor is to be over prepared.
It's not just the density of the material that can help your hardwood floors and pets get along and live harmoniously, there are many other choices you have as far as aesthetics go too.  There are stain color choices, grain line patters to consider, and even polyurethane finish options. As far as stain goes, the darker your hardwood floor is, the more the scratches will be noticed.  If you stick to colors close to the natural wood, you'll be better off.  When choosing a finish for your poly, a high or semi-gloss will reflect any of those claw marks, so a satin or a matte finish are better choices there.  While we're talking about every possible preparedness option to consider, there are even little booty's you can get for your furry friends, and to take it a step further, there are actually little rubber "nail covers" for your cats and dogs.  (people invent just about anything these days!)
So, to answer the question "Can pets and hardwood floors coexist?" the answer is yes!
With a little preparation and careful choices regarding aesthetics, species of hardwood (and maybe even a little compromising) you and your loveable furry family members can both enjoy your hardwood floors.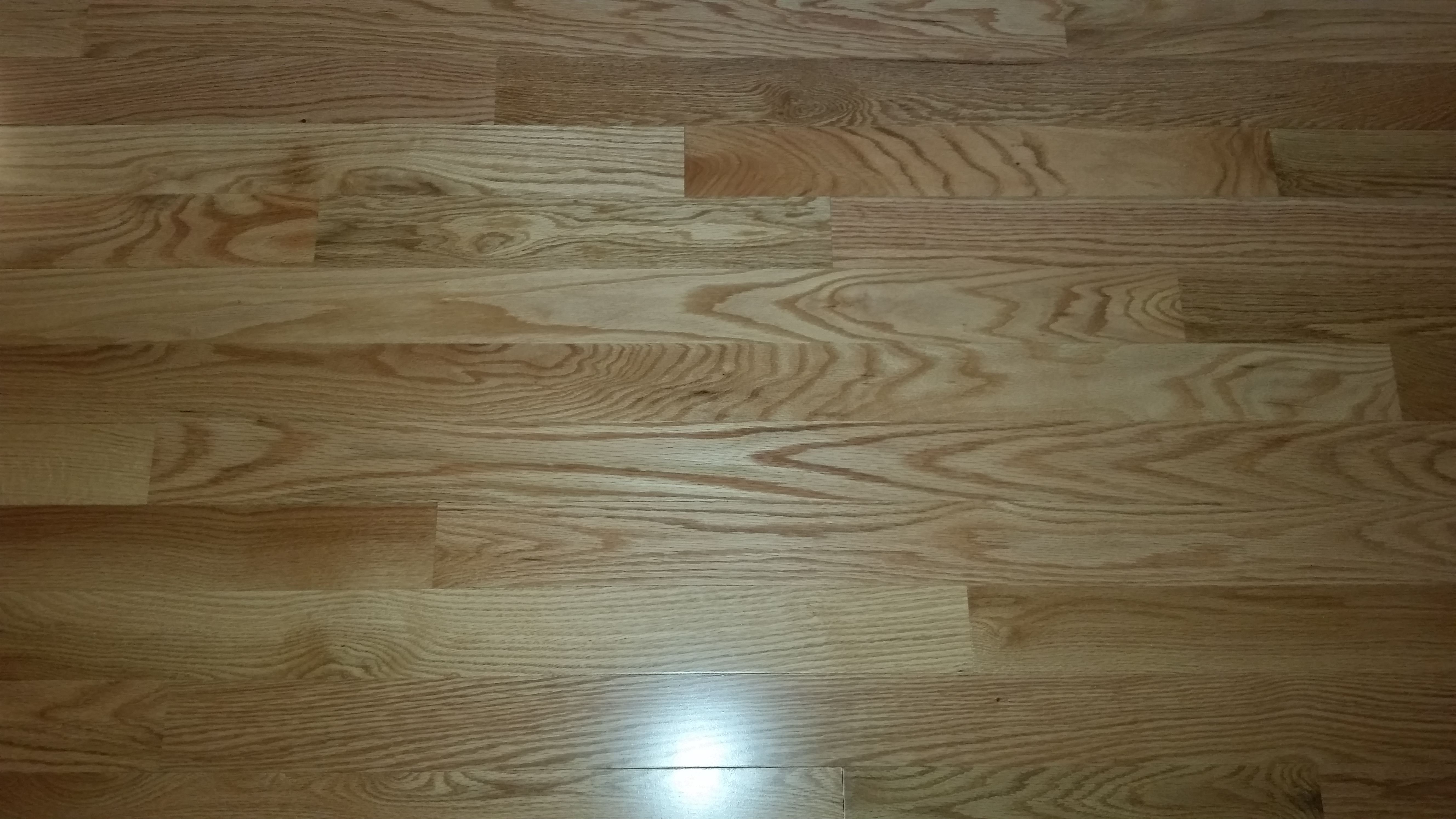 Pre-finished Red-Oak Hardwood Flooring