Thinking about remodeling your existing laundry room? Or maybe adding a new one to your home?
When the time comes to decide on the flooring, you should know that the choice really matters.  Whether you have brand new, state of the art appliances with VRT technology or trusty older models, all washers and dryers produce movement, heat, humidity and moisture, which could reek havoc on many different flooring materials.  The flooring you choose has to battle against potential scratches, denting and the occasional leak, if not something even bigger.  Your laundry room floors should have characteristics like being water-resistant if not completely water-proof, easy to clean and maintain, and, of course, incredibly durable.
Laundry rooms typically receive a lot of foot-traffic, especially if you have a large family.  So it's best to choose a floor-covering that can withstand a good amount of wear and tear.  Aside from the areas where you walk in your laundry room, the flooring you choose to install UNDERNEATH your washer and dryer will generally take the most abuse, as well as not be cleaned as often.
A few flooring materials to steer clear from are carpeting, solid hardwood and laminate flooring.  These three materials simply cannot hold up to moisture.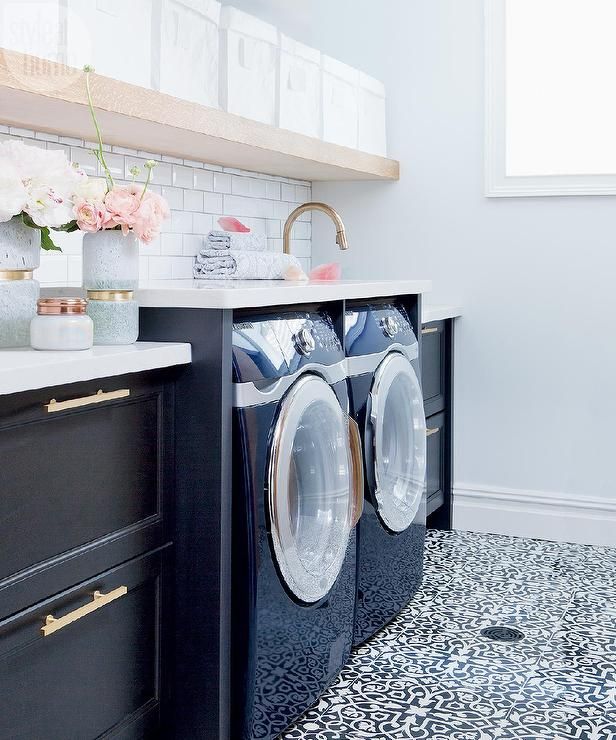 Carpeting plus moisture and/or water of any kind, equal the perfect environment for the growth of toxic mold. 
While the thought of having something as soft as plush carpet under your feet when you're doing the laundry may sound like a nice idea, it's just not worth the risk.  Carpet-fibers hold onto dust and dander which mold spores feed off of and then reproduce, this makes carpeting the worst possible choice for your laundry room floors.
Read our blog post about Mold- The Biggest Threat to a Healthy Home. This will explain in better detail how dangerous mold can be and how to remedy any issue.
Here at The Couture Floor Company, we love solid hardwood flooring for almost every area of the home, unfortunately, the laundry room isn't one of them.  No matter the density of the wood species or how hard and scratch resistant the finish is, solid hardwood just isn't the best choice for this area of the home.  The high-humidity and threat of water alone would make solid hardwood a bad choice, but add heavy appliances and lots of vibration into the equation, and you'll have a potential disaster.  Sure, they'll look good in the beginning, but after a few months of the washer and dryer moving and vibrating, the dents and scratches will become more and more apparent.  Should you ever need your machines serviced, moving them without damaging the hardwood would be a very difficult task.  As you probably know, solid hardwood also doesn't do well with water, so any leaks, if not caught right away, could cause crowning and eventually buckling.  If you're hearts set on the look of hardwood for your laundry room floors, consider a wood-look material instead that's more suitable. (If your interested in a wood look floor covering read our blog post Wood Look Flooring Options- What to Install When Solid Hardwood isn't and Option.)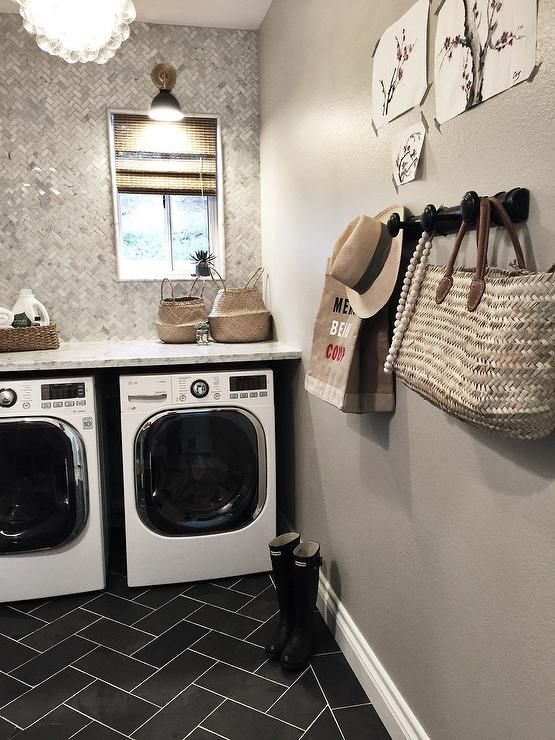 Laminate flooring is now made in many different styles and looks, from hardwood to stone and even designer patterns.  While laminate flooring may be an ok choice for areas of your home like the living room, family room, office or bedroom, any area with that holds the threat of a leak of any kind, (Bathroom, Kitchen, Entry, Mudroom, Laundry room) it's simply not recommended.  As water-resistant as the material may claim to be, laminate flooring just won't hold up to a leak.  The water will seep into the seams and the core material will absorb it, causing it to warp, which is irreversible, and you'll need to replace it.
Any area of the home where there are appliances that can potentially leak, should have a flooring material that's water resistant, if not completely water proof.  Here are some of our favorite and most suitable floor-coverings for these kinds of areas.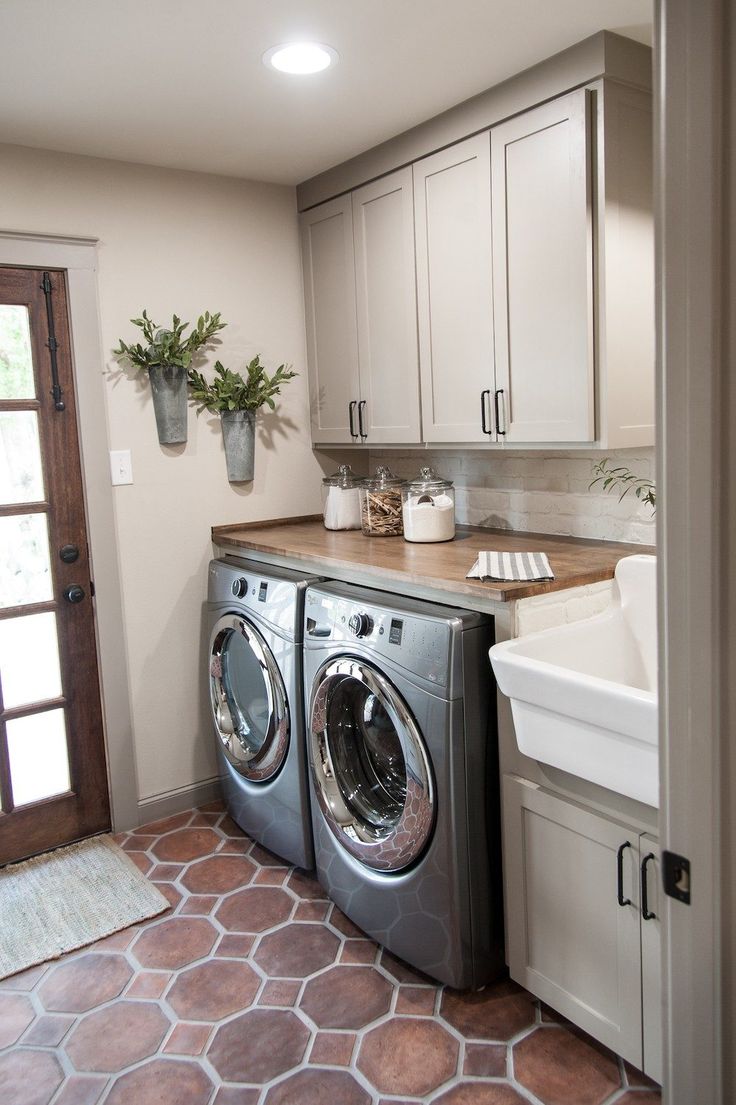 COREtec-
You've probably heard about this material somewhere or another by now, it's only grown in popularity since it was introduced into the flooring industry, and for good reason.  We've successfully installed this material in countless homes and haven't ever had an issue with it, to date.  COREtec flooring is extremely water resistant, soft on your feet and does not harbor odors. It is also resistant to mold and mildew.  COREtec comes in planks that resemble hardwood flooring, making it a great alternative to solid hardwood.  It also comes in tiles that resemble stone, offering you the look of stone, without the cold, hard feel of it. COREtec also comes in a variety of widths, colors and styles, so we're sure you'll be able to find one you'll love for your laundry room floor.  It holds up really well to foot-traffic and is also easy to clean, making it a perfect material for your laundry room.  Read more about COREtec flooring HERE.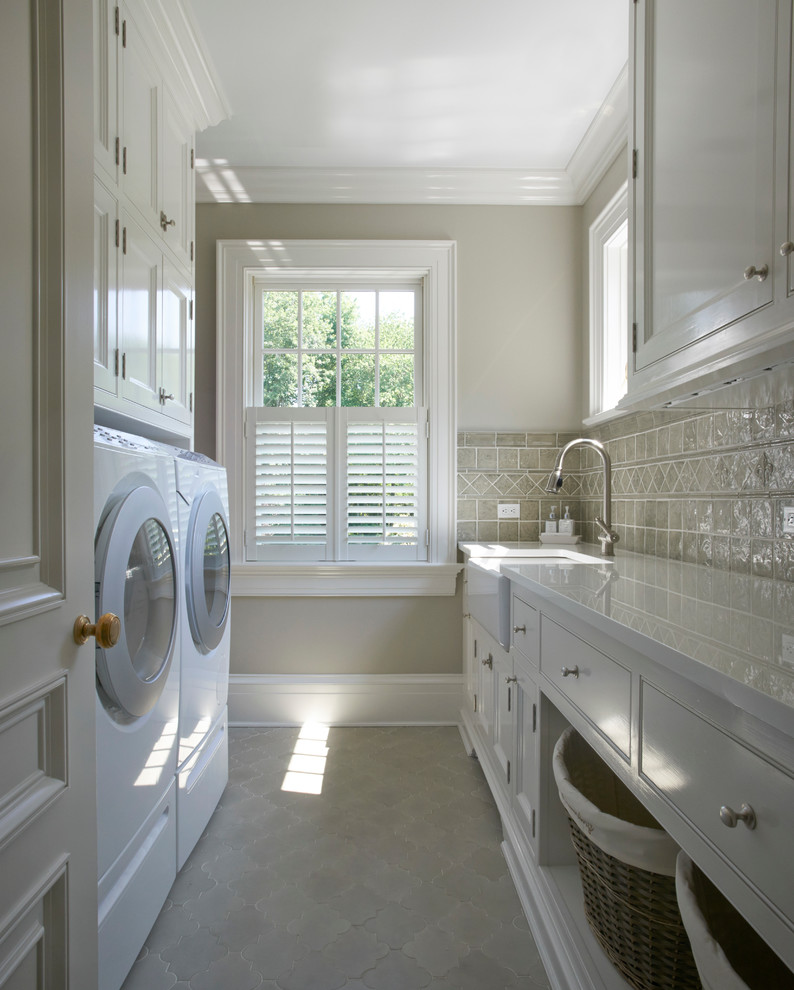 Sheet Vinyl-
This particular floor covering is one of the most water proof materials, if not the most waterproof material on the market. Sheet vinyl is as it sounds. It comes in rolls depending on the square yardage ordered. It is adhered to the subfloor using an adhesive specific to the manufacturer recommendations. Sheet vinyl comes in many different styles and colors.  Although it's durable when it comes to water and leaks, it's still only a sheet of vinyl, so dropping something sharp can puncture it, and dragging heavy objects, (like your washer and dryer) on it can seriously scratch the surface.  Overall, with general care, sheet vinyl is a pretty low-maintenance flooring material.  It's very easily cleaned, and mainly due to it's water-proof quality, would be a suitable choice for your laundry room.
Luxury Vinyl-
Luxury vinyl is a higher-end choice of flooring, when compared to the sheet vinyl we mentioned above.  The planks, themselves are water-proof, however, any sitting water that may seep in between the seams, have the potential to cause some damage.  When installed correctly, Luxury vinyl is a good, stable and durable flooring option for your laundry room.  There are endless amounts of styles on the market, and many different levels of quality too.  When considering luxury vinyl flooring for your laundry room, be sure to choose one with a decent wear layer to give it some additional strength.
Tile-
Tile is one of the most durable options for your laundry room flooring.
 From a design standpoint, there are countless styles and possibilities to choose from.  You can surely accomplish your design goal with a tile, all while giving your laundry room an incredibly durable and water-proof floor.
Sheet Vinyl, COREtec, Luxury Vinyl, and Tile are great choices because they are durable and very water resistant. If you would like to read more about water resistant flooring, check out our blog post – Water Resistant Flooring