Solid Hardwood flooring is the number 1 choice for flooring material here in the northeast, and for great reason – It adds monetary value to your home, along with personality and a lot of character and style.
Like most homeowners, here at The Couture Floor Company, we love our hardwood floors.  We take tremendous pride in each and every one of our hardwood floors that we install and finish.  But what if theres an area in your home that isn't suitable for hardwood flooring?  Well, we've got some options for you – In this post, you'll learn about the various alternative options to solid hardwood, that will still bring that hardwood look to your home.
First, how do you know if your home is suitable for solid hardwood flooring?
There are a few key things you can look at in order to know if a particular area of your home is suitable for solid hardwood flooring or not.
Location-
First, what level of the home is the room that you wish to install solid hardwood flooring on? On grade and above grade are the levels of the home that are typically recommended for installing a solid hardwood. This usually refers to the first floor of a home and anything above it.  There are many other flooring options that would make more sense to install in below grade levels such as basements, or any area that is built below ground level.
Climate Stability-
Here in the Northeast, we understand that the climate drastically fluctuates with the changing seasons.  We also understand that solid hardwood flooring reacts to these climate changes by absorbing additional moisture when the weather is more humid, and expanding and contracting when the temperature and relative humidity fluctuate from season to season.  That being said, another key point that needs to be considered is whether or not you have a plan to control your homes interior climate through all the changing seasons.  Things like a central cooling and heating system, along with a dehumidifier is something to consider having in your home if solid hardwood flooring is what you plan on installing.
Subfloor type-
Generally, wood and plywood subfloors are the choice material for installing solid hardwood.  Being able to use staples, cleats and nails is always the recommend installation method for solid hardwood floors.  If you have a cement subfloor, your hardwood flooring will have to be glued, and even though it can be done under ideal circumstances, it's never the installation method of choice.  There are much more suitable materials out on the market that would last longer and just make more sense to install over cement.
So, now that you have an idea about if your particular space is suitable for solid hardwood flooring, let us go over some wood-look materials that you can consider if solid hardwood just won't make sense in your home-
#1 –  Floating wood-look vinyl planks
These man-made composite materials are only gaining in popularity, and the flooring industry just keeps making them better and better every year.   There are a few different manufacturers with materials to choose from, but each have the same overall advantages.
They're clickable floating floor systems, so they can be installed over any subfloor material.
With the wear-layer being vinyl, they're water and mold resistant so they can even be installed below grade, where there is more moisture and humidity.
Most floating vinyl plank floors have an attached underlayment, similar to COREtec's cork, which make these materials softer on the feet than many others.
The varieties of styles they come in are massive.  If you're heart was dead-set on a solid hardwood floor, but your home won't permit it, we're certain there is a floating vinyl plank floor out there that will give you the "look" you were going for.
The technology in the printing of the top layer has greatly improved over the years.  They offer distressed looks, reclaimed looks, and many colors from white washed all the way to true black, all while keeping the look of real wood and it's character.  There are even styles of exotic wood species that have really beautiful color and grain patterns.  There's really something for everyones taste.  So if you want the look of wood, floating wood-look vinyl planks are a GREAT option when a solid isn't suitable.
#2  –  Wood-Look Tile
We know it's pretty easy to tell a wood-look tile floor from a solid hardwood floor, just by looking at it, but that doesn't mean your home can't have the style of the particular wood floor you initially wanted.  Yes, tile is a very hard material, but honestly, it's the absolute best and most durable material for places like bathrooms, kitchens and basements.  There's no question about that – and with options like radiant heat underneath, that thought of a freezing cold tile floor can be a thing of the past.  There are some truly gorgeous porcelain and ceramic wood-look tiles out there today, there's no doubt at all that you'd be able to find one that gives your home the look of having solid hardwood.  There is everything from textured tiles that feel like there is wood-graining, to distressed-looking planks, and they come in many different sizes, so even if you were looking to do a custom hardwood floor, like a varying width solid hardwood floor, their's a tile for that too!  Just think; no sanding and refinishing will ever be needed, you'll never have to worry about your wood-look tile expanding or contracting and you won't have to feel badly if you feed your pets directly on your wood-look tile floor!  If you think about it aesthetically, a tile floor will never look just like a real solid hardwood floor, no matter how close they get, but as far as durability goes, tile may just be worth settling for.  If a tile floor is installed properly, it has the potential to last until you're tired of looking at it!
#3. – Luxury Vinyl Plank Flooring
Luxury Vinyl Plank flooring falls somewhere in between the floating vinyl flooring systems, and the wood-look tile floors.  These are vinyl plank floors that are water and mold resistant, like the floating vinyl planks, and are a bit harder on the feet, similar to the wood-look tiles.  The difference with this material is that it is 100% glued down, and because it is to be glued down, it's extremely important that your subfloor has a truly flat surface.  This material doesn't do well with discrepancies like waves, bumps or divots, it greatly prefers a nice and flat surface.  The appearance of Luxury Vinyl Planks has come a long way in the flooring industry.  There is high definition imagery on the surface that can mimic just about any kind of solid hardwood species.  And, like the floating floors and the tiles, it is made in a multitude of styles, colors, and even textures.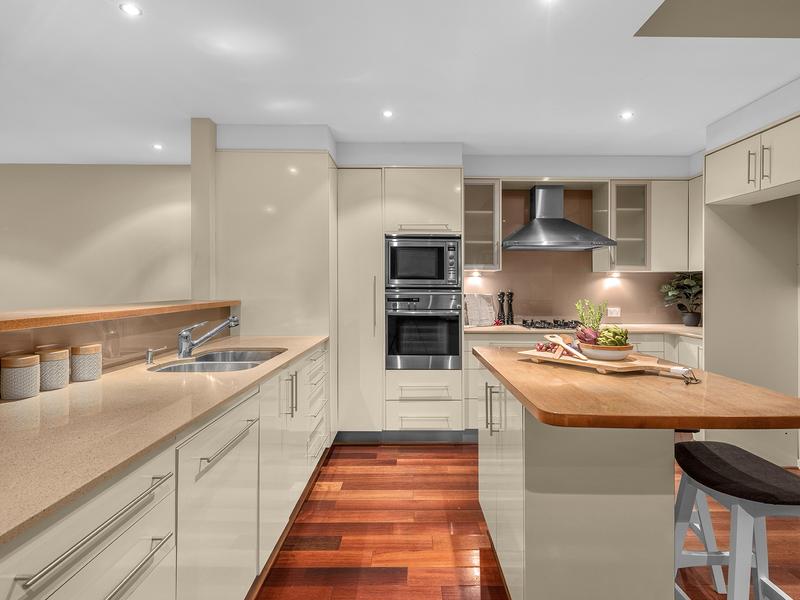 Solid Brazilian Cherry Hardwood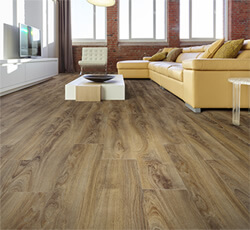 Wood-Look Vinyl Planks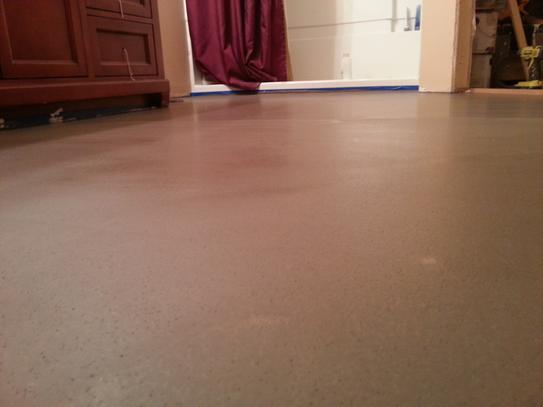 Self leveling cement – Bathroom Subfloor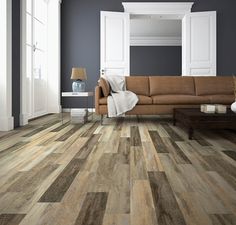 COREtec Flooring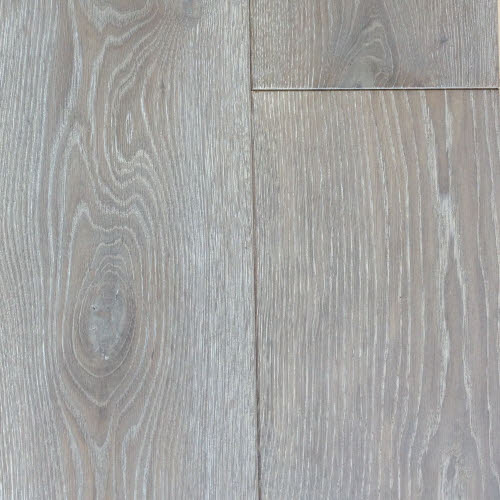 Floating Vinyl Plank Flooring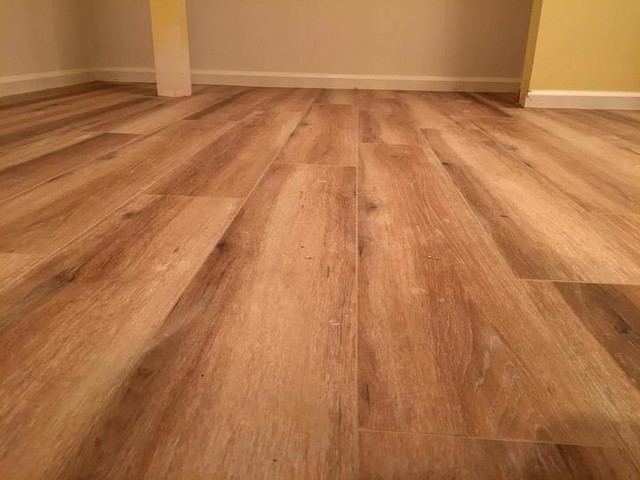 Hickory Wood-Look Porcelain Tile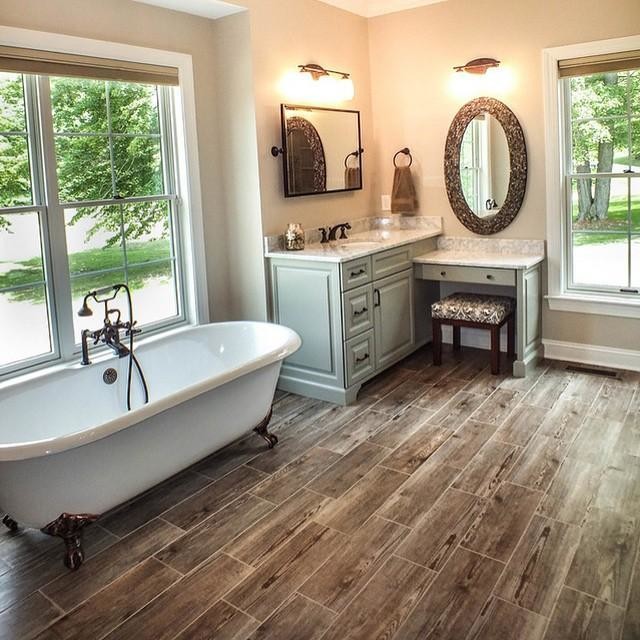 Bayur Boreno wood look porcelain tile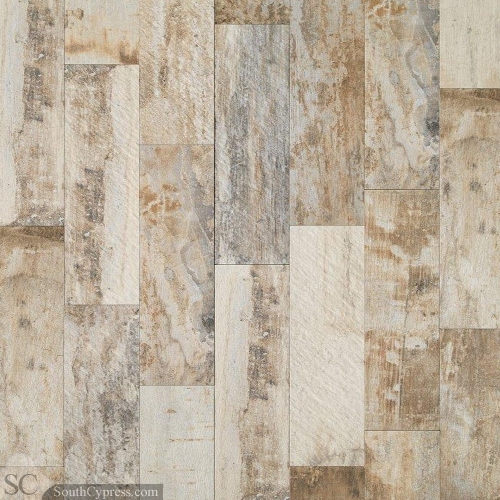 Ceramic vintage wood-look tile flooring


Ceramic tile flooring- Herringbone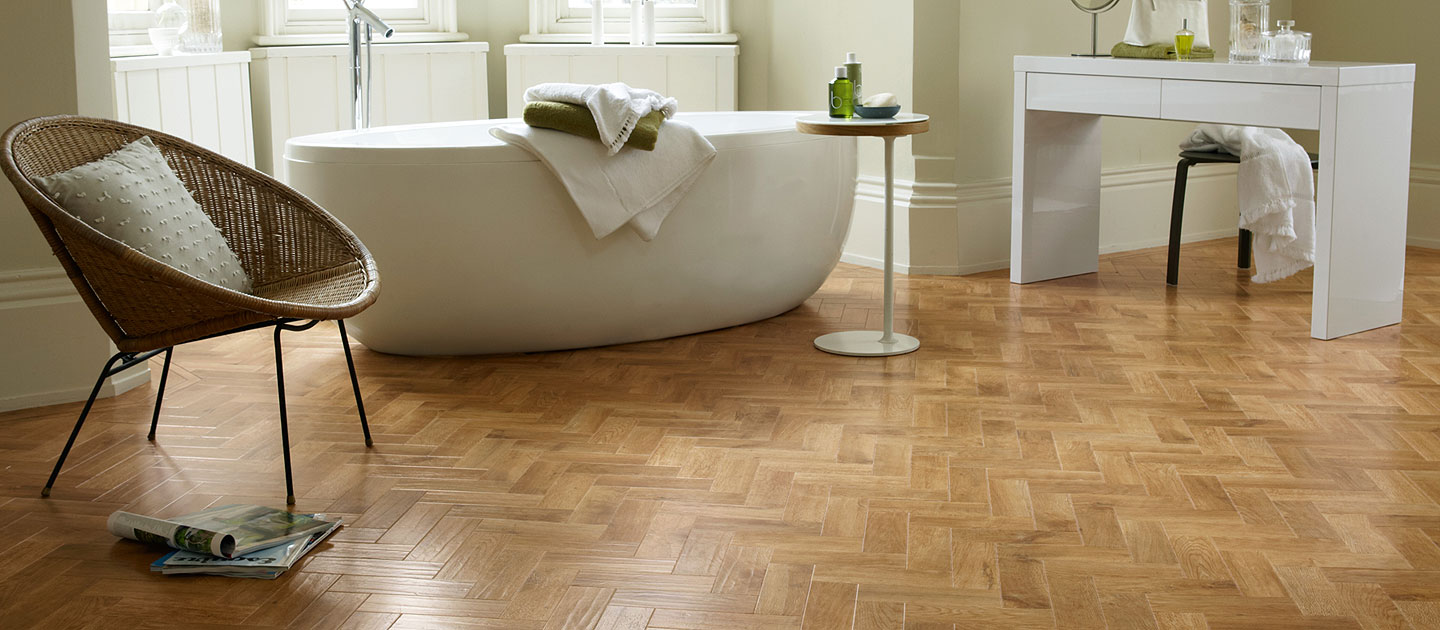 Luxury Vinyl Flooring in a Herringbone pattern