Scientific Name – Microberlinia brazzavillensis
Common Names – African Zebrawood, Zebrano
Grown – West Coast of Africa
Janka rating –  1575
Continuing in our exotic species series, this week we're discussing Zebrawood.   This rare and remarkable hardwood is unlike any other.  Zebrawood is named after its appearance, looking similar to the stripes on a Zebra when cut quartersawn.  It has incredibly distinct striping that is completely natural, and only something that mother nature could have conjured up.  The sapwood is a pale creamy yellow, while the striping is a highly contrasting dark brown, and darkens over time.
Zebrawood definitely isn't for everyone; it is a truly special hardwood that is most often used to make a lasting impression.  In small spaces, its striping can be a bit overwhelming or busy, but in larger rooms, this stunning hardwood is a real jaw-dropper!  This hardwood species would certainly make a bold statement in any home.  If you enter a room with Zebrawood flooring, you're likely never to forget it!  Zebrawood can be used to compliment a homes' style, color scheme and decor, or be left to take the spotlight all on it's own, like it does so well.  Zebrawood is often used for a unique flooring border or custom inlay, creating a dramatically elegant floor.
Ok, so we've gone over the incredible appearance of Zebrawood, and why it's so unique, but what about it's durability?
With a Janka rating of 1575, it's much harder than our domestic species of Red and White Oak, making it a great choice for flooring applications.  Zebrawood is very durable and is known to resist denting really well, it also stands up terrifically to high traffic areas of the home.  Another pro of Zebrawood is that due to it's naturally "busy" appearance, it's a great material for homes with pets.  Not only is it hard and durable, but its natural striping will hide a lot of the floor-scratches that come along with being a pet-owner.  This also isn't one of those floors that you'll see every spec of dust either, it's definitely a floor that can be lived on, comfortably.
Having an exotic wood as an accent in your home adds elegance and a high-class feel.  Zebrawood, being as rare and unique as it is, brings unique style and a definite couture look!  Even adding it in small doses, like accent pieces or an inlay in the main entry; maybe even as a countertop or dining room table!
This luxurious hardwood dates back to the 1800's, where it was commonly used in British furniture-making between about 1810 and 1860.  Soon after, it found it's way from Africa through the Jamaica lumber trade and into the US, where we've been using it to bring beauty into our homes ever since.
As an example of just how luxurious this hardwood is, in the past, Zebrawood was used as decorative features in Cadillac and Mercedes-Benz automobiles!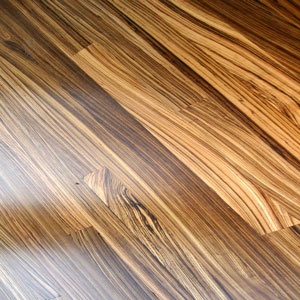 Zebrawood Flooring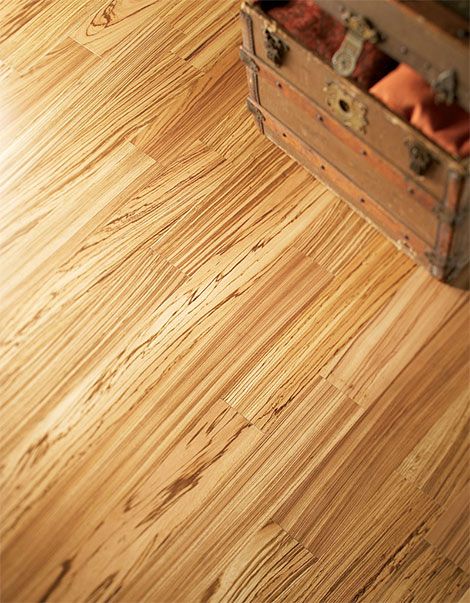 Zebrawood flooring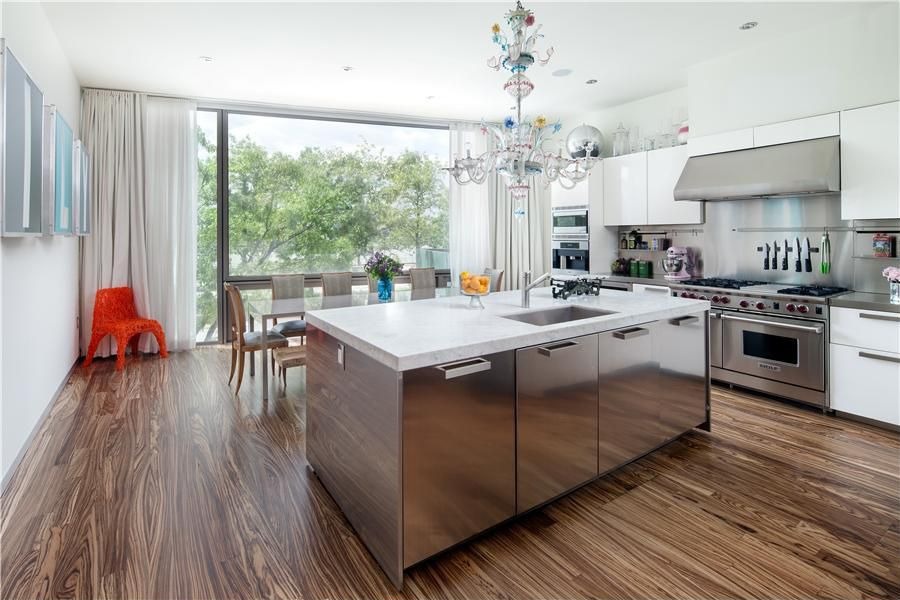 Zebrawood Flooring/ Kitchen Remodel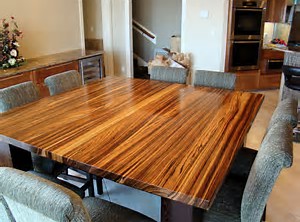 Zebrawood dining table