Scientific Name = Cordia dodecandra
Janka Hardness = 2,010
Origin = Mexico and Central/South America
---
Bocote is a truly distinct exotic hardwood species.  Although Bocote is not a rare wood, and is not listed as an endangered species, this hardwood exudes luxury.  The appearance of Bocote's unique figuring and graining can only be compared to one other species in the world, Brazilian Rosewood, and even that only just comes close.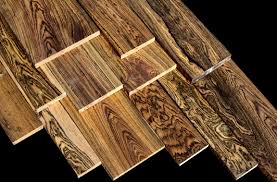 If you're looking to renovate your home and add something special; something with character; yet something that will last a lifetime and still be as special and unique as the day it was installed, an exotic hardwood floor is a perfect place to start looking, and Bocote is on the top of the list for luxurious exotics!  With as many exotic hardwoods as there are to choose from, it's really not hard to find something that will spark your interest.
Bocote really stands out among others with it's deep chocolate brown swirls and truly unique graining.   If you install a Bocote hardwood floor, you'll be able to look down and see gorgeous curved lines and intricate swirls with stunning natural luster beneath your feet.  
Bocote is dense, durable and completely capable of withstanding heavy foot traffic, making it a lasting choice for hardwood flooring. 
Characteristics of Bocote Hardwood Flooring –
Unique wavy grain patterns naturally hide and camouflage every day wear and tear, as well as pet scratches.
Naturally a rot resistant and stable solid hardwood, ensuring longevity in your home.
Mildly photosensitive, slightly darkening with age and sun exposure.
Suitable for whole flooring applications and ideal for decorative inlays and borders for custom floors.
Appearance –
Bocote has a general warm, yellow-brown tone with dramatic and bold dark brown, almost black striping, and unique swirls.  It's amazing character and natural luster is what has drawn woodworkers to this gorgeous species for years.   This stunning wood is used for fine furniture making, cabinetry, boat building, veneer, and of course, gorgeous flooring.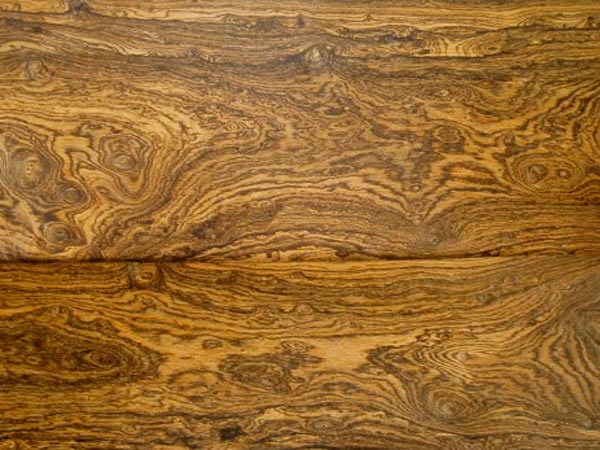 Bocote wood grain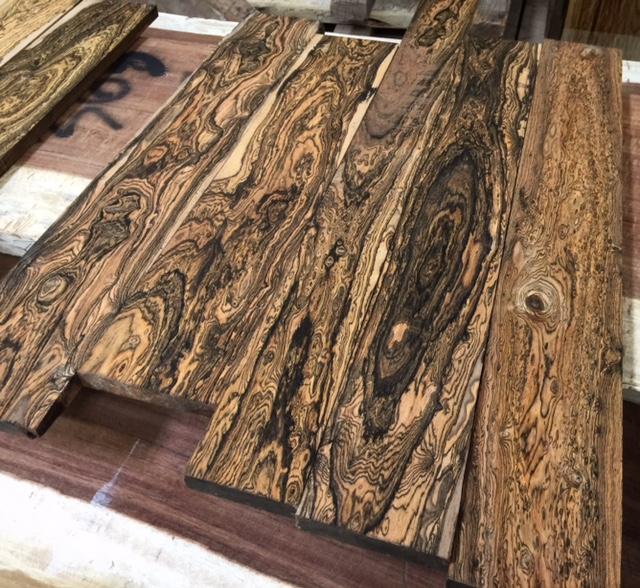 Bocote Wood Slabs