Last week we posted Flooring Trends for 2017. This week we're bringing you even more information on what's trending in the flooring industry.
Stain Colors and Polyurethane Finish
We really have started to see a gravitational pull away from the super dark stains that have taken over the past few years and everything is leaning towards lighter and neutral tones. We can't tell you how many floors we have sanded and refinished with the Jacobean and/or Ebony stain color – it's countless. While those colors are bold, beautiful and timeless, a lot of our clients have recently been asking for lighter stain colors or a natural finish for their hardwood floors.
Gray and White-washed floors have become increasingly popular within the last few years.  A couple of years ago, every once in a while a client would call in asking for a gray stained hardwood floor. Now, we get at LEAST 2 calls a day with a client wanting their floors stained gray. Gray is a great stain color because it's so versatile. Any color fabric, paint or style of furniture goes with gray. It's a universal finish! You can stain a floor gray, paint a wall turquoise, buy a brown couch and the look is sleek and stylish!  A Gray stain is unlike any other stain color because there are so many variations of it.  One Gray floor can look completely different than another gray floor.  It all depends on the mix used, and the species of flooring it's applied to.  There are ready-made gray stain colors that you can use as-is, or you can have a unique color created to meet your specific taste.  A custom gray stain is created by mixing parts of ebony and county white to achieve whatever level of light or dark gray you desire.
White-washed hardwood floors:
White-washed hardwood is another style-trend we see that is starting to come back.  With the super-light, ultra-matte flooring trend coming out of Europe, we're sure there's going to be more and more white-washed hardwood floors in the year to come.  The look is completely neutral; think "beech home," or "vacation getaway."  We're not talking about the standard 2 ¼" white-washed floor… Think more along the lines of wide-planks, lots of character, even distressed or hand scrapped hardwood with the white-wash finish.  It's the old-school white-washed floor, with a modern twist, and it's really stunning!  The light color flooring makes any room look so much more open and inviting.  Similar to a Gray floor, you can virtually put any color on the walls, and it'll work!  If you want to go modern, and contemporary, you can put a bold, dark color wall as a high-contrast to the light floor, which will make the floor pop even more… Or you can go with warm neutrals like beiges, creams, pale blues, etc…  There are just so many possibilities, you can't go wrong.
Reclaimed/Repurposed
Reclaimed hardwood flooring; we really can't say enough about it.  This is a trend that recently started and isn't slowing down any time soon.  If you're looking for a unique, yet completely eco-friendly floor, look no further!  "Reclaimed" means that it's been recycled from something else, like old beams, antique flooring, old logs, or even old torn down barns.  This recycled wood is really unique in appearance, and because of where it comes from it's in very short supply and may be hard to find.  A reclaimed hardwood floor is one that is from wood originally used for another structure.  I mean, any structure that you can think of that has hardwood can be turned into reclaimed hardwood flooring.   Reclaimed hardwood is VERY unique with its own set of characteristics. Its natural character comes from the fact that this wood has been through all sorts of weather and use.  Often times, reclaimed hardwood has great history behind each and every piece and usually comes with a great story to tell. Also, it's great for the environment because instead of throwing away these pieces, we are using material that has been recycled for a new purpose!  Reclaimed wood features all the character and beautiful imperfections found in natural wood.  A good alternative would be something called "machine stressed wood."  It's not recycled wood, but it holds the same kind of rustic, worn look.  Think of it like denim jeans… they look great brand new, but to be "in style," they've got to have the wear and tear, rips and scuffs, even holes… basically character.  And that's exactly what these floors are in high supply of… character.
Textured Flooring/Vinyl
Textured flooring is a bit multi-dimensional. There are three main types of textured flooring: 1. Wire brushed 2. Hand scraped 3. Distressed.   In the last post, we touched on solid hardwood flooring with these types of textured surfaces… but what if you want the textured-look but aren't able to install wood flooring?  Well don't worry, the flooring industry has been coming out with some really great material the past few years, and it's only getting better!  Now, you can find that textured-look in a luxury vinyl.  Luxury vinyl has really come a long way.  There are whole lines that look like real hardwood flooring.  But it gets better… they've added texture to the surface of the vinyl!  Not only does it really look like distressed, hand scraped or wire-brushed hardwood flooring planks, but you can actually feel the texture on the surface too!  It's truly amazing what they've come out with.  Now, what about a material that has all the benefits of vinyl, but without the hassle of gluing it down, and is softer on your feet….  I'm sure you've heard about this great, fairly new material called COREtec by now.  It hit the flooring industry by storm a few years ago and, like luxury vinyl, it's coming out with some really beautiful options.  COREtec not only has all the benefits of a vinyl floor, meaning that it's virtually water-proof, but it can be installed as a floating floor system, and is a lot softer to walk on. COREtec Plus has a cork underlayment attached and what a difference it makes! We've installed this material in countless homes over the past few years, and every one of our clients truly loved the look and the feel of it. COREtec Plus's line of wide-planked flooring even has options that mimic reclaimed hardwood flooring planks, with [what looks like] natural wood character and even saw marks.  It's the textured surfaces of these vinyl floors that will make you wonder if it's hardwood or not.  So if you want the look of reclaimed hardwood floors, or simply, wood flooring with some texture, but either don't want real wood, or can't install it because of the area or subfloor of the home, these vinyl options will surely suffice.
Herringbone/Chevron/Parquet
These classic floors are making a comeback with full force! They are beautiful and elegant and will surely make any room in your home feel as though you just walked into the White House. With their stately uniqueness, these floors will be the conversation starter of any get together. The trend of Herringbone, Chevron and Parquet has never really faded, per say. Many state and federal buildings have this style of flooring and do everything possible to upkeep and restore them. However, we have definitely seen a shift into residential installations of these floors.
Parquet flooring has become super couture. While the original style of parquet exists, we have been diligently working on new designs and layouts. With the technology that exists in the flooring industry today, just about any design, pattern or layout is possible.
These are the Flooring trends of 2017, thus far. We always tell our clients that they do not necessarily need to follow these trends, that they should do what THEY want with their floors because trends come and go and more often than not, trends will come full circle (hey, even bell bottoms are making their way back into fashion!)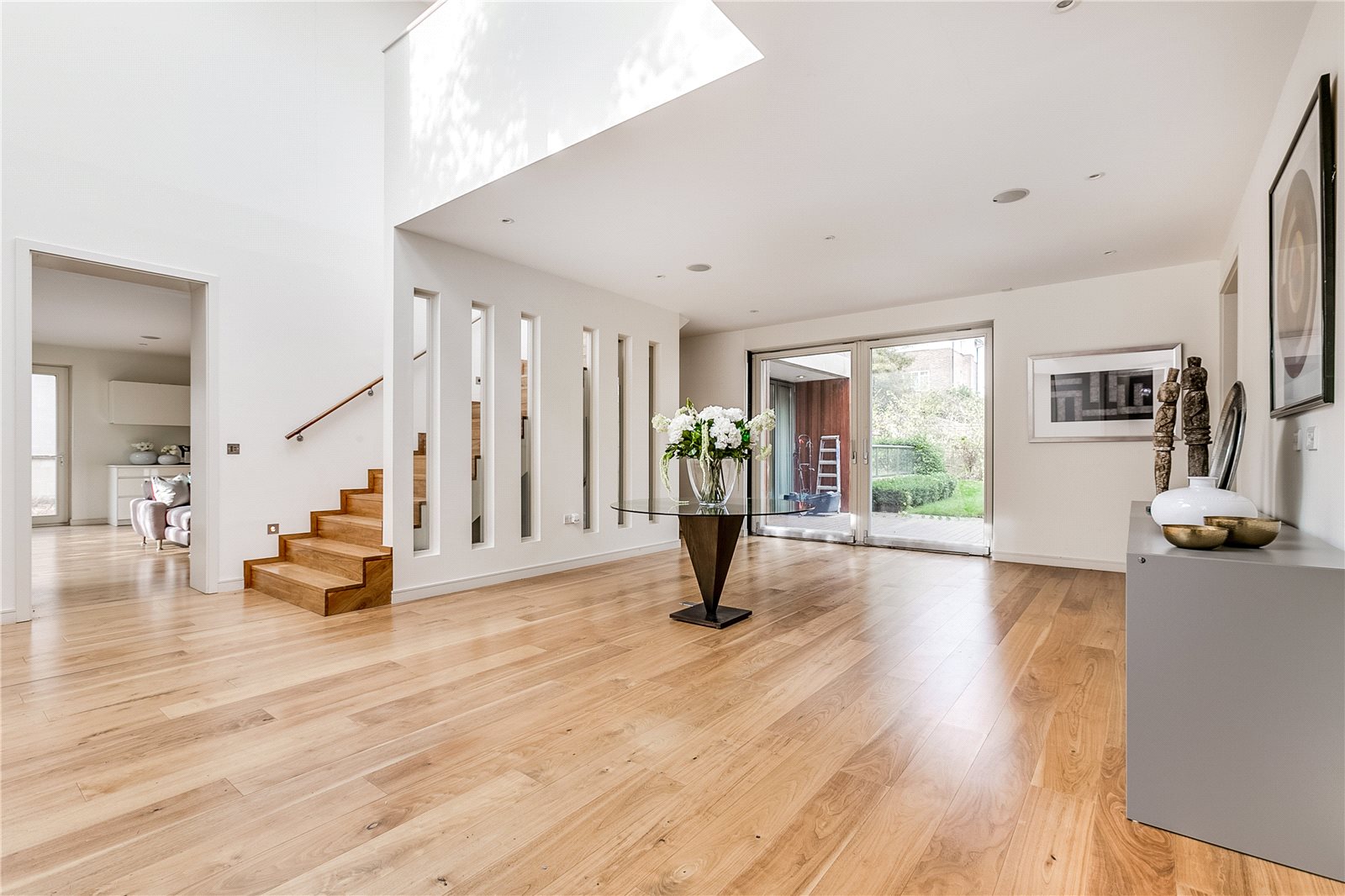 Solid Oak site-finished with satin poly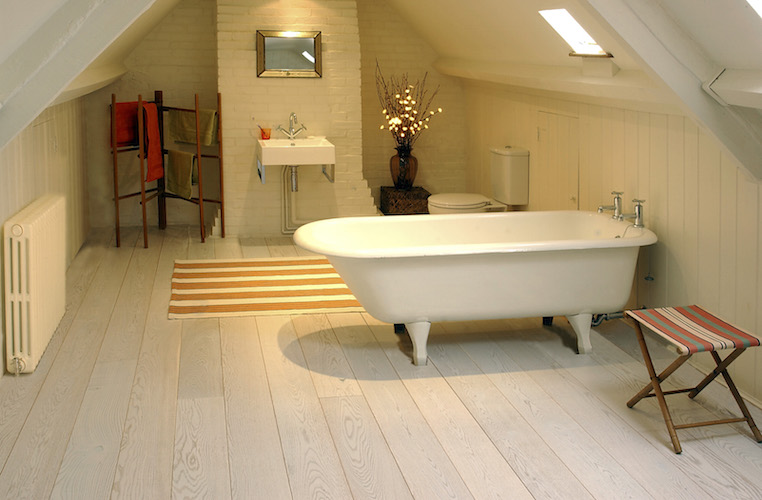 Solid hardwood-white wash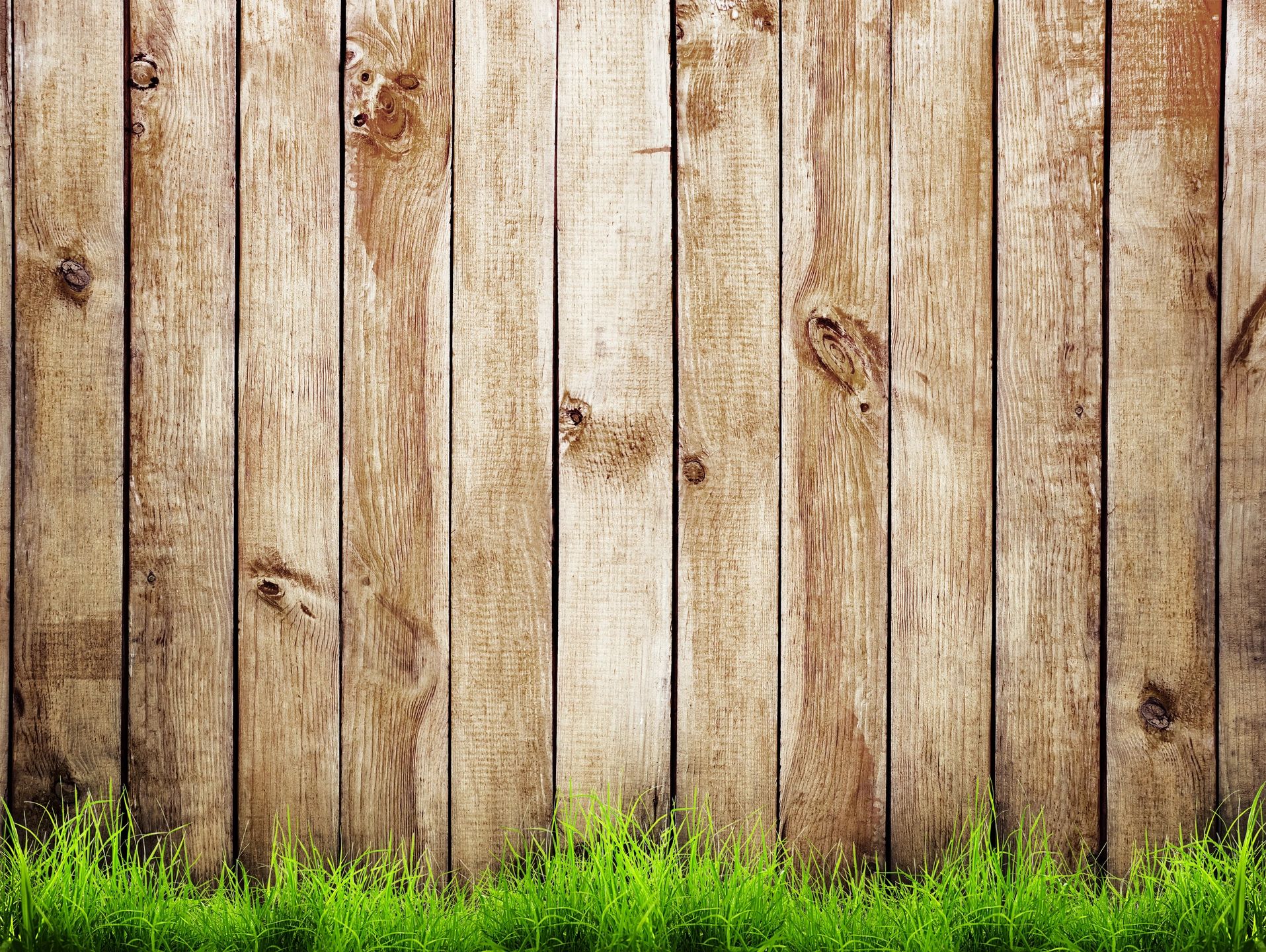 Old fence re-purposed for flooring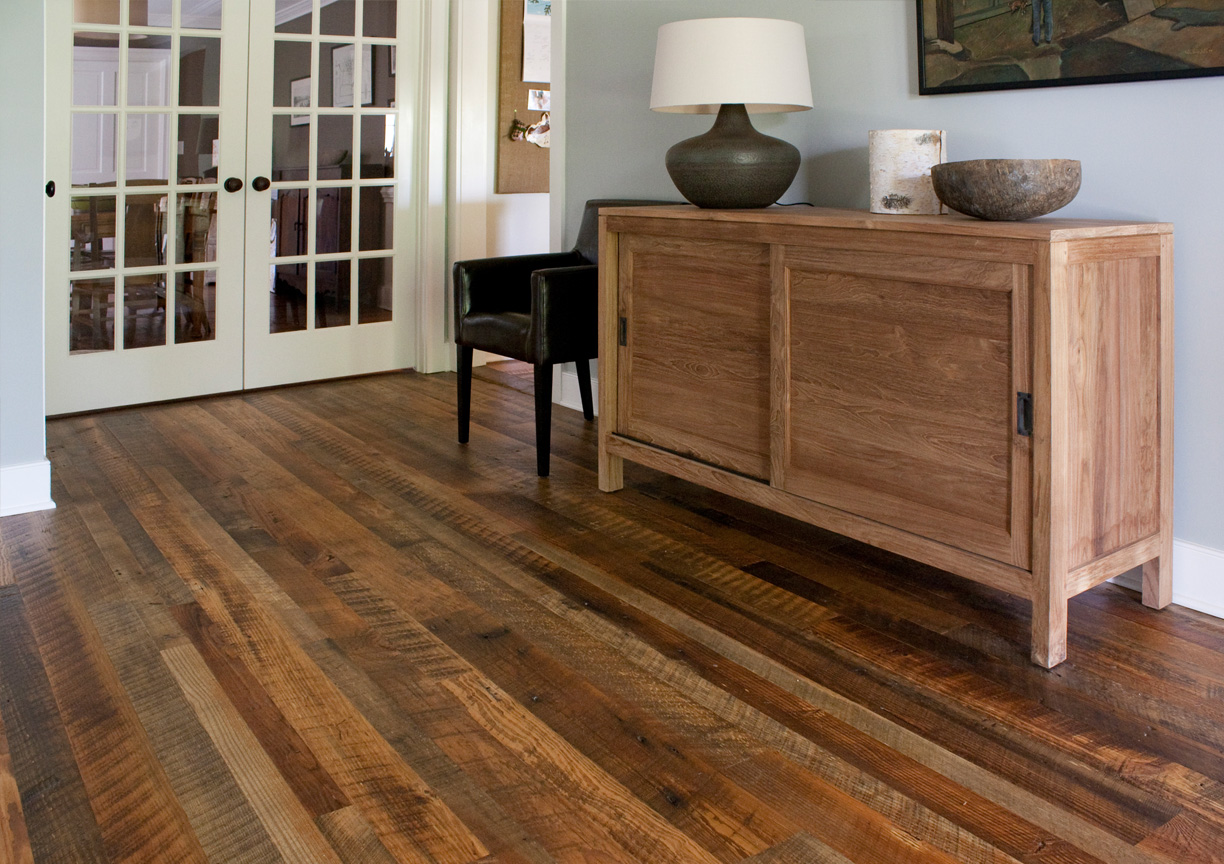 reclaimed hardwood flooring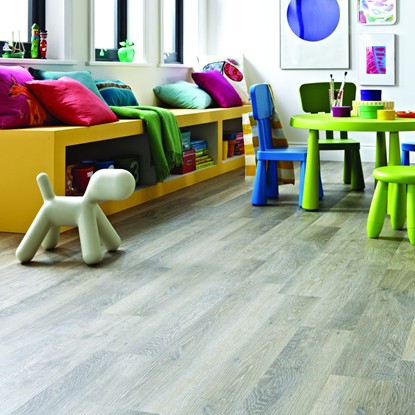 Luxury Vinyl flooring with texture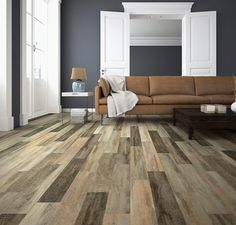 Coretec flooring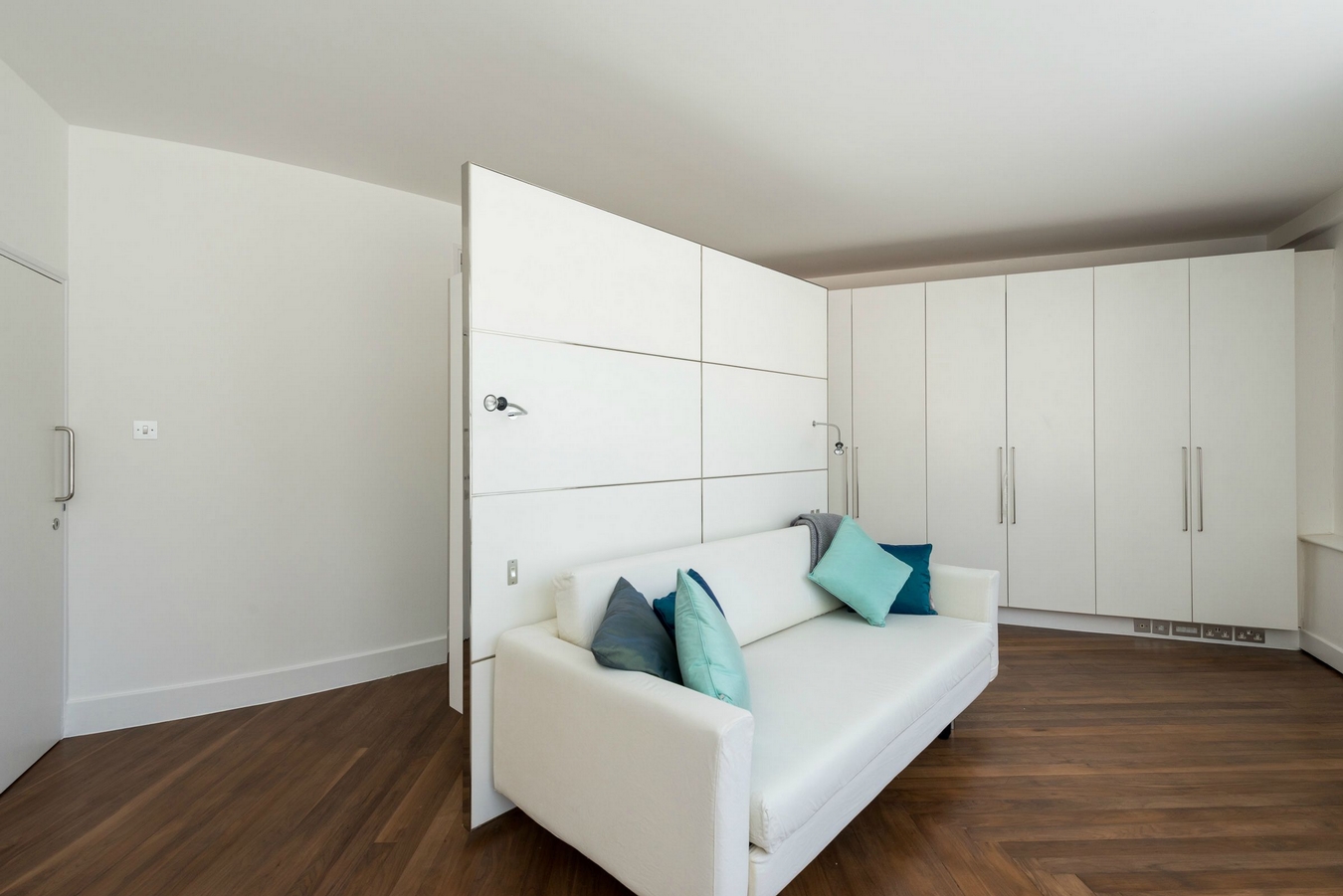 Herringbone hardwood flooring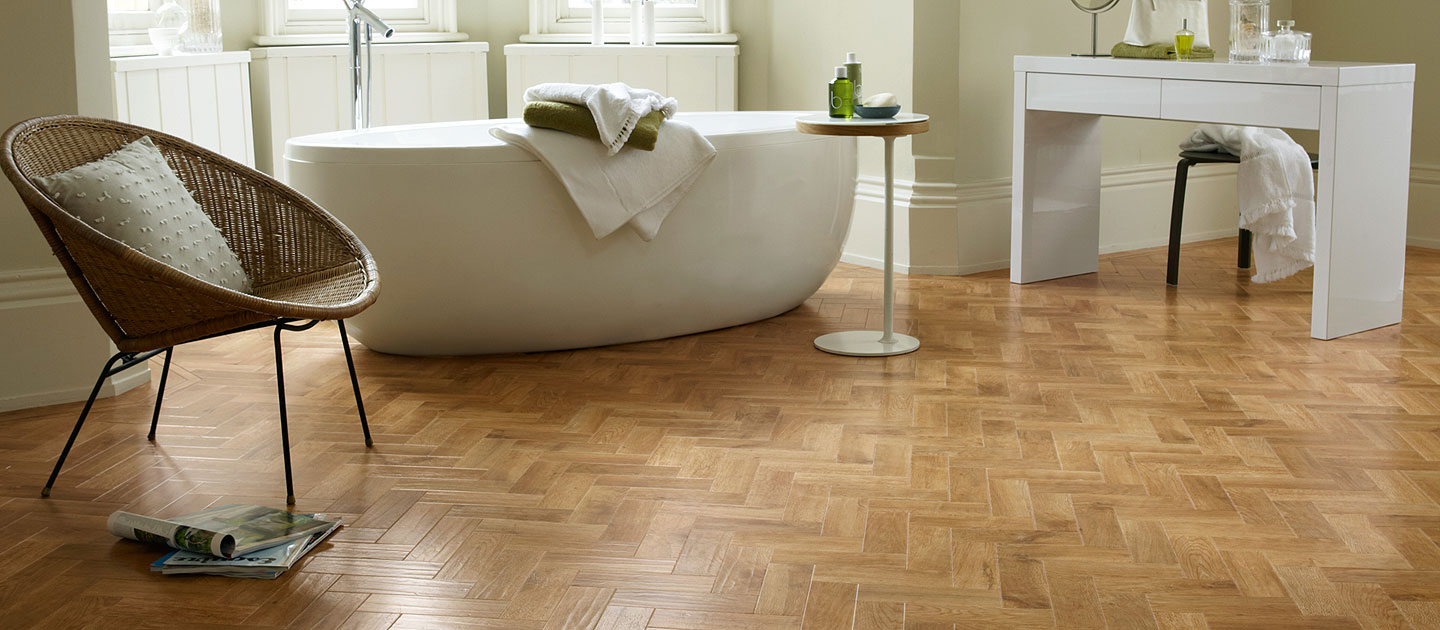 Pre-finished Custom Herringbone