This article will explain some options on how to handle the discovery of asbestos tile in your home.
Vinyl Asbestos Tile (VAT) – Where to begin?
There are countless residential homes here in the northeast that were built before the 1980's.  Needless to say, most of them have asbestos tile installed somewhere inside.  Often times the homeowner is unaware of the asbestos tile flooring at all.  It's usually found covered up underneath an existing floor, most often being carpet or even under a layer of plywood.  Occasionally, when a home is sold to a new buyer, the existence of vinyl asbestos tile isn't always disclosed in the proper way that new rules and regulations require today. So don't think that just because a highly-recommended home inspector passes the inspection for the home, that there's no possibility of finding vinyl asbestos tile eventually.  If the disclosure was never submitted into the proper paperwork during sale, there's no way for anyone, even an inspector, to know that asbestos tile is existing somewhere hidden between the layers of flooring.  Somewhere along the line of the title being passed from one homeowner to the next, things like this are often lost.  The fact is-you never know what you're going to find in an older home, once you start ripping things apart.
The thought of having asbestos in your home is scary to most people.  This is mainly because the cost of properly removing the vinyl asbestos tile can be astronomical, sometimes costing more than your flooring job all together.  More importantly, it's scary because of the health hazards that asbestos tile flooring is associated with.  Most homeowners don't expect or plan for such a large added expense.
So where do you go from here?   What are your options now that you've discovered vinyl asbestos tile in your home?
Well let me assure you, there is an alternative option that we provide to our clients when we run into this issue….
But first, let's go over the basics:
Identify-
The first thing you want to do is identify the floor tile.  Does it really contain asbestos?  Sometimes it can be difficult to tell, but here is some helpful information to assist you in identifying whether your flooring actually contains asbestos or not.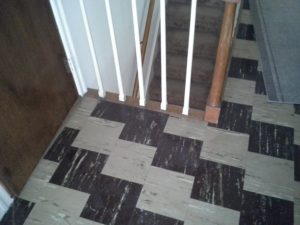 The first bit of information you're going to need to look at is the year of which your home was originally built.  If your home was built before the late 1980's, there is a really good chance that there's vinyl asbestos tile installed somewhere inside.  The manufacturing and installation of vinyl asbestos tile began in the early 1950's, and while its production ceased around 1984, there's still a good chance it was installed in homes being built up until, roughly, 1986.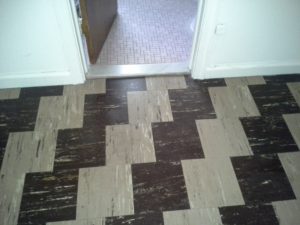 A great place to find information and clues as to whether your floor contains asbestos is finding an extra box of the existing floor tile tucked away somewhere.  Believe it or not, sometimes the answer to the mystery is as simple as finding the box it came in.  Often, original floor packaging can be found stored away somewhere in the home.  It's usually found in basements, attics, or storage areas where extra boxes of floor tiles were saved for repairs, if needed.  Simply comparing the information on the package with the flooring inside it, to the tiles existing in the home, may be a sound confirmation of the materials identity.
For homes or buildings with floor tiles that are assumed to have been installed in North America before 1986 it would be a good idea to treat the flooring as "Presumed Asbestos Containing Material" or "PACM".  That doesn't mean you need to panic or undertake an expensive and dangerous asbestos removal project.  That's just part of identifying what's there now, so you can take the proper steps to installing your new floor.
Know your Facts-
The technical definition of Asbestos is "A set of 6 naturally occurring silicate minerals; A grayish mineral that separates readily into long, flexible fibers…"  merriam-webster.com
Asbestos minerals are microscopic-durable fibers that were added to vinyl tile flooring for its great durability and heat-resistant qualities.  Asbestos is safe and legal to remain in homes or public buildings as long as the asbestos materials are in good condition and not tampered with. This is why we often find vinyl asbestos tile underneath other kinds of floor coverings, like carpet or even sheet vinyl.
The floor tiles are only harmful when the asbestos particles are made into airborne-dust.
This happens when improper removal takes place during aggressive demolition, causing the tiles to break apart into small pieces.  Asbestos is a harmless material if not made airborne and inhaled or ingested. Many think of asbestos tiles as being "radioactive" and harmful just sitting there.  That's not the case at all; as long as you can properly contain the floor tiles so they can't wear away or be damaged, there's no need to go through the lengthy, and costly abatement process to remove it.
The Alternate Option-
There is another path to your new floor other than paying for proper asbestos abatement.  We recommend encasing the asbestos floor tiles in self-leveling cement as a fail-proof method of ensuring the material will no longer be an issue in your home.  The leveling aspect is just an added bonus that gives you more choices of floor coverings to install on top.  Once the cement product is fully dry and cured, you're ready for the new flooring to be installed.
Here are some great options that would all work really well over the cement addition-
Most COREtec Plus flooring products have an attached cork underlayment, and are installed as a floating system.  There are similar flooring products on the market but COREtec is, by far, the most popular, and widely installed.  (Click here to read our post on COREtec Plus Flooring)
Engineered Hardwood-
Depending on the product, engineered hardwood floors can be either glued down or floated.  For this option, you should consider sealing the cement prior to installing the wood floor. (Just to stay clear of any potentially damaging moisture issues, be sure the moisture content is measured properly, concluding that the cement has cured)
Laminate Flooring-
this option is installed as a floating floor system, accompanied by a separate underlayment that also acts as a moisture barrier.  (For sub-levels [below grade] of the home, we do not recommend installing laminate flooring as there is usually moisture in the slab)
Luxury Vinyl-
These floor tiles or planks are glued directly to your flat cement subfloor.  They come in tons of styles and options, and are incredibly durable and water resistant.
If you have any questions on any of the information in the post, or for more information and product availability of the flooring that we listed above, please feel free to contact us or leave a comment below!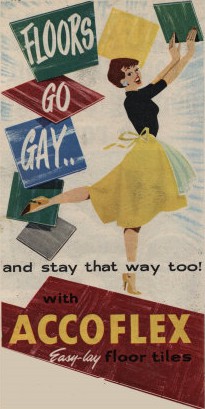 Google img- 1950's Asbestos Tile Flooring Ad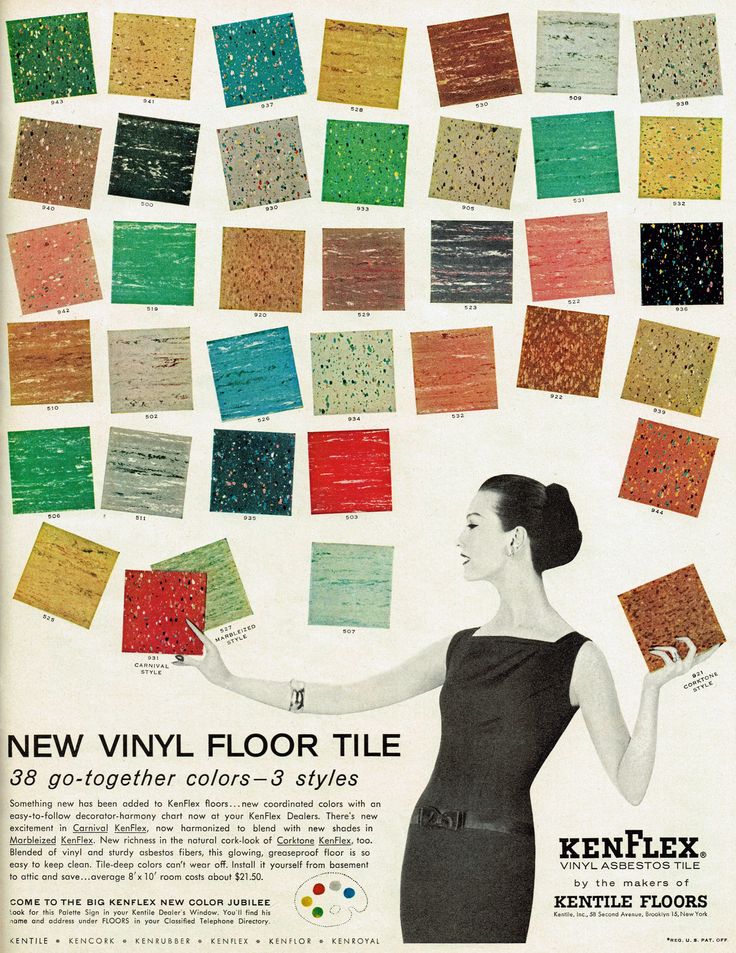 Google img- Vinyl Asbestos Tile Ad From 1950's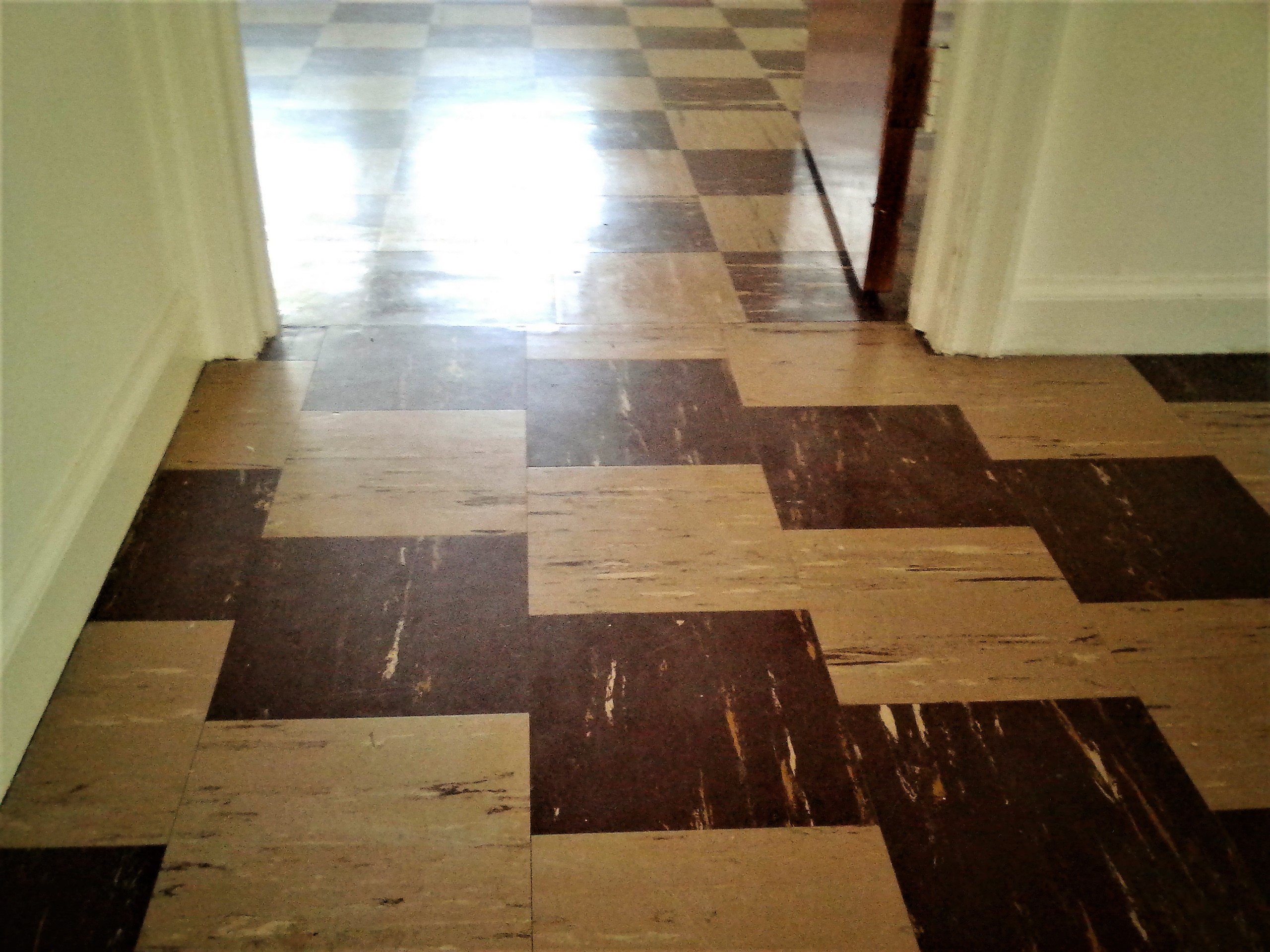 Asbestos Flooring Tiles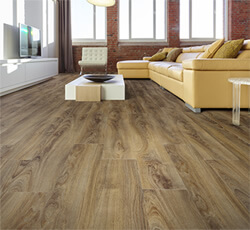 Luxury Vinyl Flooring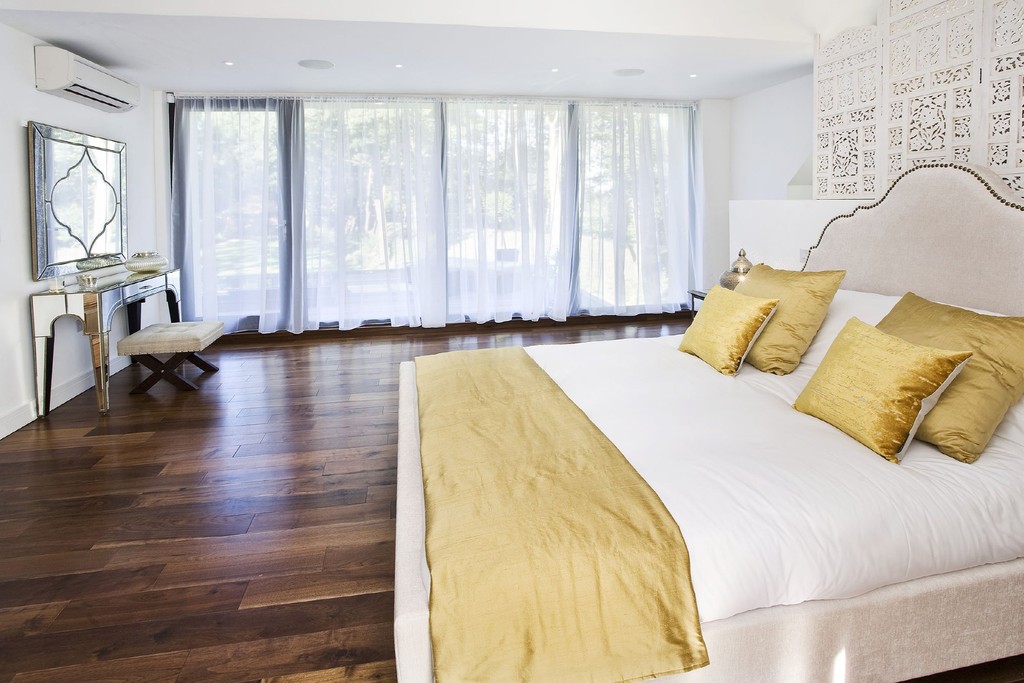 Engineered Hardwood Flooring-Walnut