Best flooring for a Basement:
What flooring is best for a basement?
Over the last few years, we've definitely seen our fair share of flooding here in Westchester and our surrounding counties… (From harsh winter storms, to Hurricanes Irene and Sandy with their torrential rain, etc…).  The ongoing trend has been for hard surface flooring options that can withstand some water in the basement, if not completely waterproof altogether.    The hard surface materials do cost more than carpet, but will, without a doubt, last much longer and avoid an unnecessary expense and, not to mention, inconvenience, from flooding, moisture and/or mold.   Anyone who has been through the mess (and awful smell) knows what we mean.  And, chances are, if it's happened to you once, you'll never want it to happen again.
*First, it's important to decide the purpose of your basement.  If you will be using the space primarily as a storage area, then you may want to consider an epoxy coating for the space. Not only is this a budget-friendly option for improving the appearance of your basement, but epoxy floor coating comes in a multitude of colors and designs. This allows for a multifunctional space that is resistant to spills and messes that are common in basements.
If you are seeking a more finished look in your basement, ceramic/porcelain and natural stone tile, luxury vinyl, COREtec, or wood floors may be a better choice for you.
Luxury Vinyl. Luxury Vinyl comes in many different shapes, styles and colors. There are styles that look like hardwood and other that look like tile and stone. They've got everything from trendy gray tones to hand-scrapped textures and even reclaimed wood-looking planks!  Whatever look you're going for, there's probably a luxury vinyl that looks like it!   There are now clickable and glue down luxury vinyls. Luxury vinyl has come a long way.
Luxury vinyl can give you the look of hardwood, with the durability of vinyl.  It's truly an amazing product.  Beside it being a great water-resilient floor covering, it looks and feels real too.  The new technology manufacturers are using today actually adds texture onto the planks so that it feels like wood graining that's similar to the high-end hand scrapped technique used on solid hardwood.  If something major does happen and an area has to be replaced, it's much simpler than replacing tile or hardwood; it's removing the old vinyl planks and preparing the subfloor for the new ones to fit in their place.  Customers are often amazed by the new luxury vinyl products that are out there. 
Ceramic/Porcelain/Natural Stone tile. Tile comes in a multitude of colors and styles, and certainly allows for a more refined look in a basement. The surface is easy to clean and requires little maintenance.  A bit colder on the feet than something like a floating floor or luxury vinyl, but depending on the look you're going for, tile is a terrific flooring material for any area that may have moisture issues. However, if you want tile and also want to keep the basement nice and warm, consider adding a radiant heat system. When tile is installed correctly (like by our expert installers,) it can last, pretty much, until you get sick of looking at it and want to remodel again!
COREtec. COREtec flooring is such an incredible floor covering option.  If moisture is or may be a potential issue for your basement floor, then COREtec may be a very good option for you. This floor covering is resistant to water and mold. This is a clickable flooring and many of the COREtec lines have a cork underlayment attached. This is a nice soft floor for your feet. COREtec comes in many different styles and colors. There are hardwood looking planks as well as stone looking tile.  Remember, we're always here to help guide you in the direction that makes the most sense for whatever space you're remodeling.  We want to guide you're flooring decision in the right direction.   We've mentioned COREtec in a number of other blog posts because it's, simply, a great solution for so many different areas of the home.  Just a few qualities COREtec boasts are its mold-resistant and nearly waterproof qualities.
Solid Hardwood.  The main concern with solid hardwood flooring is moisture. If you're dead-set on installing solid hardwood in your basement, it's best to get a professional opinion on how you can go about it.  There are a many factors that will determine whether or not solid is a good option. First, get the moisture levels of your basement tested-especially during the hot humid summer months. Solid hardwood will not last if the moisture levels are very high. You will start seeing the floors buckle and cup SHORTLY after they have been installed. Second, solid hardwood has to be installed over at least ¾" plywood. If you currently have a cement slab, you will need to install a layer of ¾" plywood. Before doing so, make sure there is enough clearance in all doorways- especially exterior.
Engineered hardwood. Engineered Hardwood is a great alternative to solid hardwood flooring for a basement. First and foremost, this flooring can be installed directly over a cement slab. There are clickable/floating options as well as glue down options. Engineered hardwoods are more resistant to moisture and temperature fluctuations. They come in a variety of different thicknesses, widths, colors and styles. If you are leaning towards a hardwood look for your basement, we absolutely recommend an engineered hardwood over a solid hardwood.
Laminate. Laminates are installed as a floating/clickable floor. While they are not resistant to moisture and will buckle and warp if moisture levels are high, they are a good option because if they are cared for properly they can and will last. Laminates vary in price range and you can find some rather inexpensive options which is why many choose this floor covering option for their basements. Manufacturers make laminate flooring that resembles many different species of hardwood. You can find laminates that look like oak hardwood, hickory hardwood, maple hardwood, etc.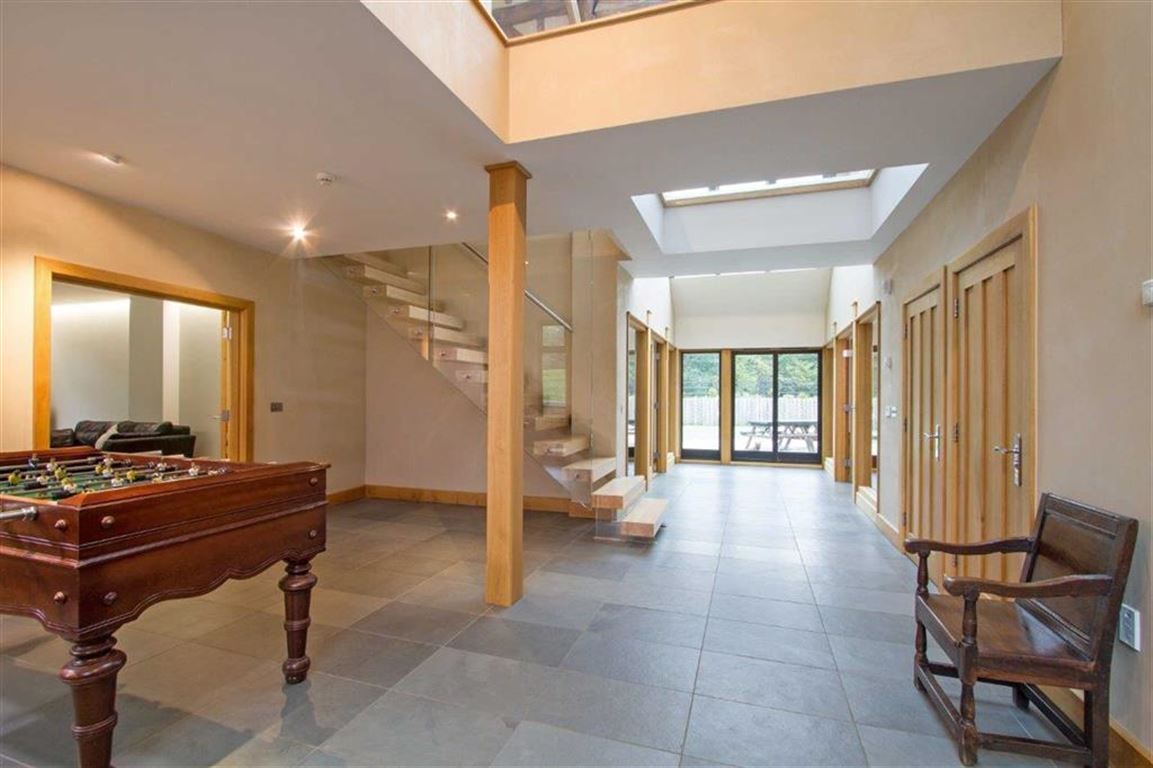 Large Format Tile Flooring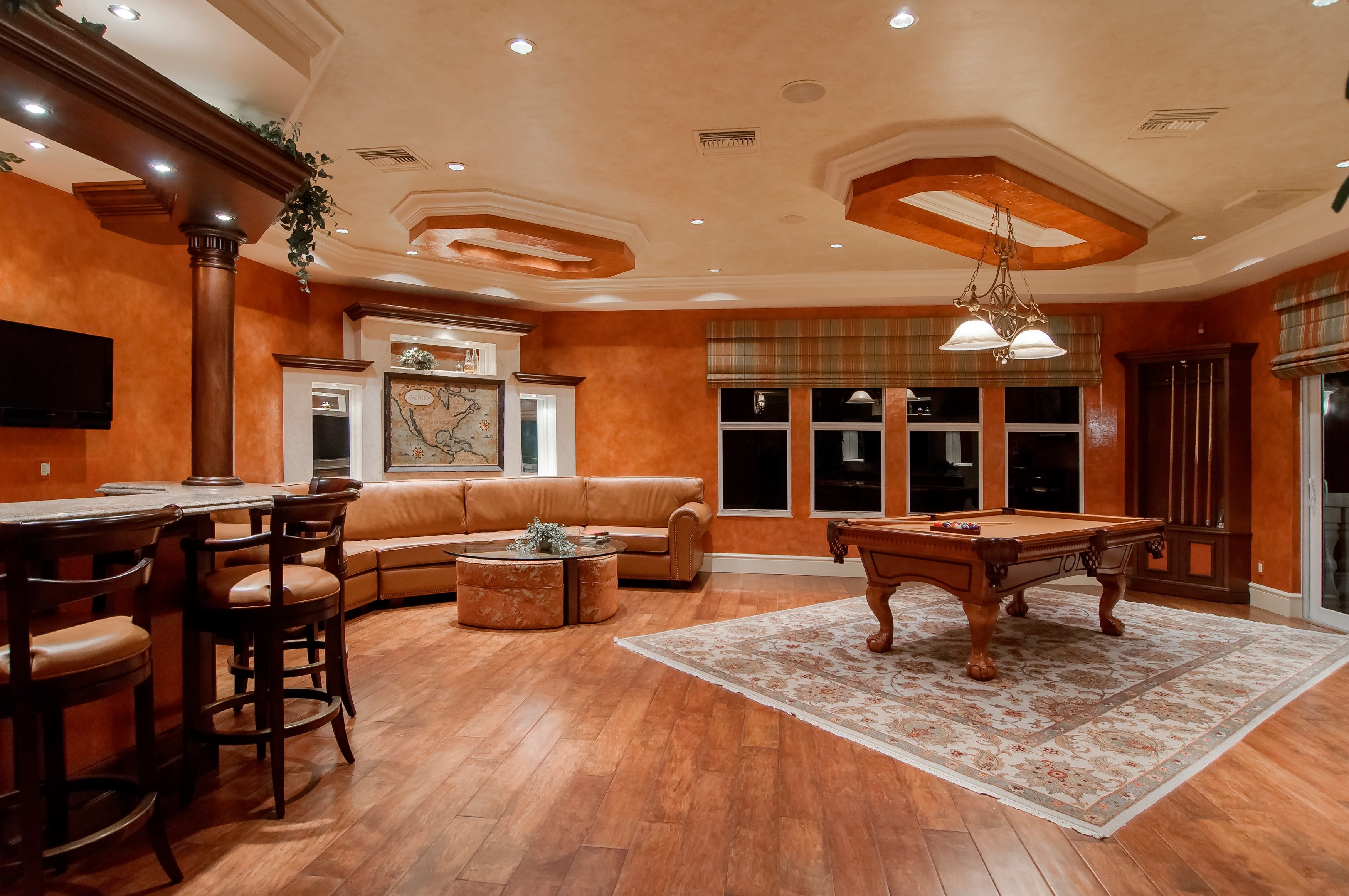 Wide Plank Wood Floors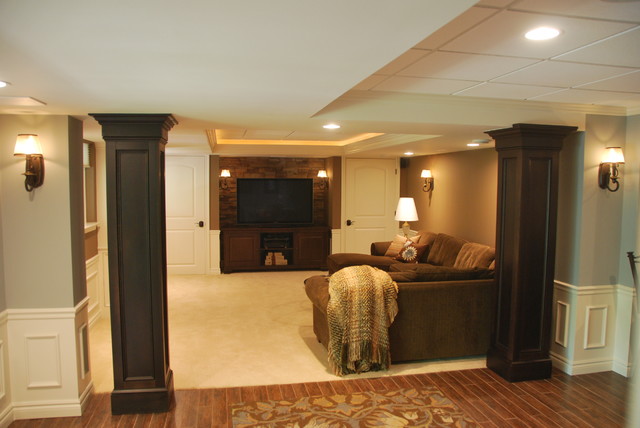 Refinished Basement