JANKA HARDNESS –  2,600 – 2800
ORIGIN – Brazil, Mexico & Peru
COMMON NAMES – Brazilian Cherry, Jatoba
SCIENTIFIC NAME – Hymenaea courbaril
Characteristics
For a number of years, Brazilian Cherry flooring was considered one of the most high-end floors that could be installed in your home.  The deep, rich red tones, natural luster and clean, delicate grain pattern made it obvious that it belonged under the category of "high end."  Although the popularity of Brazilian Cherry has declined in the more recent years, mainly due to new advances in stain colors, like all the trendy grey we've seen in the past few years, its high-end stature remains the same.  For those who want a true look of class and luxury in their home, Brazilian Cherry is the way to go.
Not only does this beautiful exotic hardwood offer an array of gorgeous, deep natural color, but its density gives it even further qualities of durability and longevity.   Brazilian Cherry hardwood flooring would be suitable for just about any home, whether you have cats, dos, small children, or all of the above, this durable exotic can handle it all.  Being that its rich color is all natural, if Brazilian cherry flooring does happen to scratch deep into the raw wood for whatever reason, it won't show a difference in color, like a stained hardwood will.
Appearance
There are many beautiful natural color variations in Jatoba (Brazilian Cherry) hardwood.  Its inner heart-wood can be fairly easily distinguished from its outer sap-wood.  With colors ranging from light/pale orange even a salmon-tone, to a warm brown for its heart-wood, to warmer oranges and deeper reddish-browns for its outer sap-wood.  In less "clear" pieces, you may even see some dark streaking here and there.  Jatoba, like most other hardwood species, darken slightly over time, turning into a deeper red/brown toned wood.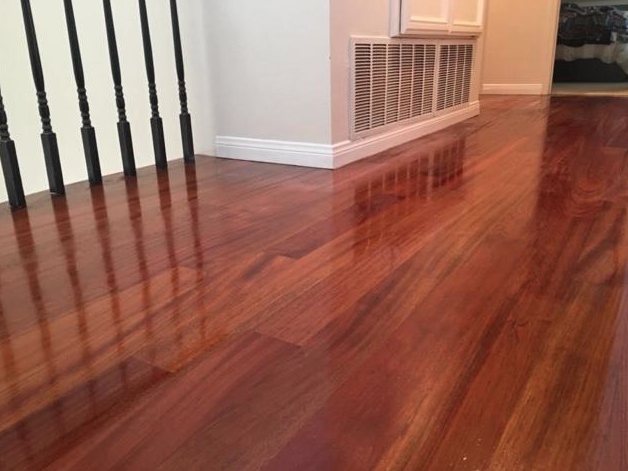 If solid hardwood flooring isn't suitable for a specific area of your home, like the basement you may be finishing, or if your ground floor has a concrete slab, consider a custom-milled Brazilian cherry engineered hardwood floor.  These custom floors are milled-to-order and can even be sanded and refinished just as many times as a solid ¾ inch hardwood floor. They also utilize less actual lumber, making it a more eco-friendly choice of flooring.